Thousands of fans enjoy weekly music event Piknic Electronik in Barcelona
This summer, electronic music fans have the chance to enjoy a weekly music festival in Barcelona with renowned DJs such as Richie Hawtin, Joy Orbison, Claude Vonstroke and M.A.N.D.Y playing in a hillside park to thousands of attendees. The event, in its second year, takes place on Sunday afternoons 15 times during the summer in Barcelona's Joan Brossa gardens with spectacular views over the city. The average attendance of each session is 2,500, "creating an intimate atmosphere", according event organiser Jordi Ventura. "We have a loyal fan base, with the majority of attendees returning again and again because they enjoy it so much" he told the CNA.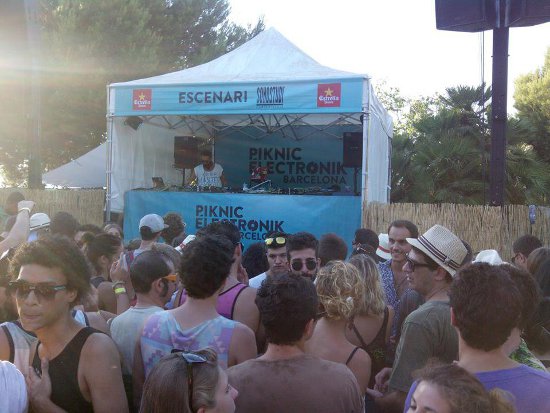 Barcelona (ACN).- For the second year in a row Barcelona is hosting weekly music festival Piknic Electronik with thousands of fans flocking to enjoy the music, food, activities and relaxed atmosphere. It takes place 15 times on Sunday afternoons during the summer, and is situated in a picturesque hillside park. During the season, renowned DJs such as Richie Hawtin, Joy Orbison, Claude Vonstroke and M.A.N.D.Y play to crowds in the Montjuic area of Barcelona with spectacular views over the city. While many come to enjoy the music, the organisers have placed an emphasis on attracting families and creating a friendly atmosphere with activities for children such as a skate park, water slides, yoga and inflatables. There are also food stalls, a second-hand clothes market and bars. Event organiser Jordi Ventura spoke with the CNA and noted how "we have a loyal fan base, with the majority of attendees returning again and again because they enjoy it so much". The average attendance is 2,500 per session, with last Sunday's Piknic drawing a record crowd of 5,000. However, Ventura emphasised how they aim to not overcrowd the site so people can enjoy the space which has "an intimate atmosphere". The event has already been running for 11 years in Montreal and the organisers decided to export the festival to Europe with Barcelona chosen as the host city. It is privately funded and the organisers rent the Joan Brossa gardens from the City Council. Tickets cost €11, or €9 if one enters before 4pm, while children under 12 years old get in for free. The event goes on for the entire afternoon and early evening, closing its doors around 10pm.
"An incredible line-up"
Ventura stated how the event organisers were thrilled to have veteran DJs Richie Hawtin and Carl Craig performing at the Piknic, and during the whole summer there is "an incredible line up of artists and I don't think I would be able to chose a favourite; every Sunday we have something completely different". Last Sunday Barcelona-based duo Audiofly kicked off the day with their experimental form of tech house. As fans ate their picnics, some gradually took to the dance floor to enjoy the sunshine and the tunes which lasted well into the evening. The highlight was the collaboration between M.A.N.D.Y (Berlin-based minimal house producers famous for their hit "Body Language") and Blond:ish, who drove the crowd wild.
Ventura emphasised how it is a new form of event as people can enjoy the atmosphere of an electronic music festival, but do not have to travel outside the city and dedicate four days like a normal festival. "We really have created a different concept and we are reinventing the idea of one day festivals", he stated. The event organiser also revealed that "we have worked hard to improve the section for families so that people of all ages can enjoy the event".
A mixed crowd of locals and foreigners
While the Piknic has been popular with locals, through word of mouth and social networking sites the amount of foreigners has increased. Ventura highlighted how the event's Facebook page has enabled people to discover the Piknic Electronik festival. "Little by little the crowd is becoming increasingly multinational and now roughly half the attendees are locals while the other half come from abroad", he revealed. When looking around the site there really is a mix of people of all ages and from many countries.
One such fan was Catalan Juan-Mario, who had friends visiting from Brazil. "I wanted to show them a good time and do something a bit different that my friends wouldn't normally see", he stated. "I come most Sundays and I love it", he added. Another guest was Daniel from Portugal who noted how "for the price and with the DJs that are playing it is such good value for money!". "The atmosphere is great", he concluded.
A free one-day session with 10,000 attendees
This is the second year that that Piknic Electronik has been running in Barcelona and it has increased the number of dates from 7 to 15. While the festival has already been running for 11 years in Montreal, the organisers wanted to transport the idea to Europe and chose Barcelona as the host city because of its reputation for hosting music events and because "we knew it would work really well in Barcelona", stated Ventura. Last year the event received a total of 25,000 guests, while it is predicted that this year roughly 45,000 people will attend. This year's season will end on the 22nd of September and will include a performance by British DJ Richie Hawtin and for one day only the crowd capacity will increase to 10,000 and entrance will be free. "We wanted to reward those who have been loyal and have attended throughout the summer", stated Ventura.
Expanding to other European cities
When asked if there are plans to continue the event into next year Ventura said "Most certainly, we aim to improve the Piknic and try to link it more to the city of Barcelona. It is also very likely that Piknic Electronik will grow and we plan to increase the number locations. Barcelona is the first test but we are now looking for other sites in Europe where we can hold the event. It may also take place in Madrid in 2014".