Thousands attend colorful Pride parade in Sitges
Masks, wigs, high heels, customs and music in celebration of gay-friendly town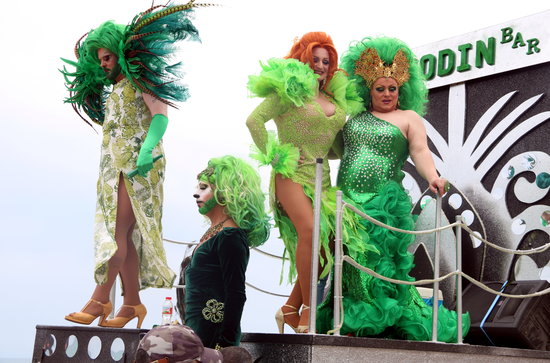 Sitges, arguably the gay capital of Catalonia, held its annual Pride parade on Sunday, putting an end to ten days of celebrations including partying, music, extravaganza and show.
The parade was followed by thousands of people who filled the coastal town's promenade, and who saw hundreds of people dressed up.
Masks, wigs, high heels, make up and other classic elements of LGTBI+ celebrations were everywhere, as well as sailor, police, hippie, cowboy and animal costumes.
The parade included several colorful groups dancing, music at high volume and thousands of people taking photos of the performers – part of the audience, both LGTBI+ and heterosexual, were international.
Indeed, Sitges is one of the most gay-friendly towns in Catalonia. Forty kilometers south of Barcelona by the coast, it is a popular tourism resort also for families, like neighboring Vilanova i la Geltrú.
Its parade is especially famous, and the Pride Index promoted by holiday rental website HomeToGo considers it the 9th best in the world – one spot ahead of Barcelona in a ranking topped by São Paulo.