Sónar electronic music festival will go ahead after judge ruling
Request of the striking riggers to have the assembly work of another company halted rejected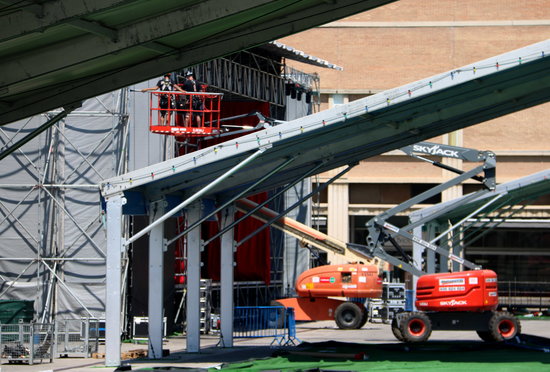 A judge in a Barcelona court has rejected the measures requested by the striking riggers, thus guaranteeing that the electronic music festival Sónar will take place this week.
The riggers requested that assembly work of the stages and venues be halted, after the organizers hired another company to do the work of the striking riggers.
The judge, former ERC senator Santi Vidal, referred to the "principle of proportionality" in his decision, adding that "legitimately exercising the right to strike a few, can never endanger the viability from the workplace of many other workers, who also deserve the protection of the courts of justice."
The riggers went on strike on July 11 as after the failure of their collective agreement talks, and a judge accepted their complaints for consideration after another company was hired to replace them while on strike.
The riggers argued that hiring another firm violates their right to strike – the law prohibits companies from hiring workers in order to reduce the impact of such action.
However, the judge ruled against the cancellation of the event this week. Vila considers that it is not justified to stop the assembly activity being underdone by the alternative riggers company that was hired because it would cause "irreparable and very high damage" to other companies and workers in sectors such as transport, catering, and restoration.
In his ruling, the judge also notes that "it is necessary to seek legal solutions that allow the festival to be celebrated without attacking the strike rights of the employees of the initial bidder" and refuses to enter the "bottom line" as it deals with a resolution on precautionary measures.
Sónar 2019 is to bring some of the world's most important figures of hip-hop and electronic music together under the same roof, alongside some of the most exciting cutting-edge technological displays and installations to complement the musical program.
The electronic music event, which attracted some 126,000 visitors to its 2018 edition, will start this Thursday.