Pyrenean wildlife inspires village wooden sculpture trail
Esterri d'Àneu finds creative solution to removing dangerous fir and pine trees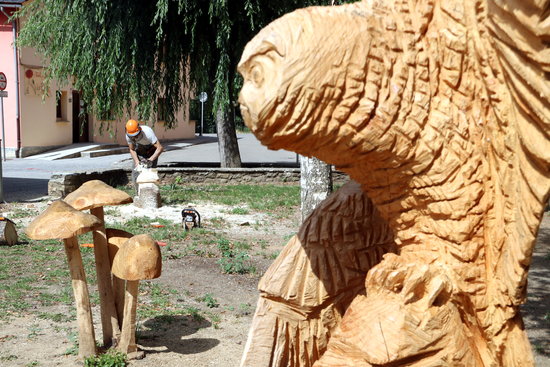 A mountain village in the Catalan Pyrenees will be home to a new wooden sculpture trail, inspired by area's flora and fauna.
Around 25 of the sculptures will be spread around the village of Esterri d'Àneu, population 756.
Local mayor, Pere Ticó, explained that several trees in the village had been identified as being a potential danger to residents, especially after heavy snow, but instead of cutting them down completely and uprooting them, a decision was made to leave part of the main tree trunks in situ, to be transformed into works of art.
It meant the council managed to save money too; converting the trunks into sculptures has proved 50% cheaper than removing the trees completely.
Esterri d'Àneu plans to plant two new trees for every one that has been cut down, but Ticó said he would avoid firs and pines, to stop the same issues arising again in the future.
Craftsman Roger Vidal Coral is the person tasked with using his chainsaw to create a whole world of animals, flowers and mushrooms for residents and visitors alike to enjoy.
The mayor hopes that both the ongoing act of making the sculptures, and the end result itself will both prove popular with tourists.