Primavera Sound hits all-time best with 220,000 concert-goers
Next edition to be held June 4-6, 2020, and organizers announce another festival in Los Angeles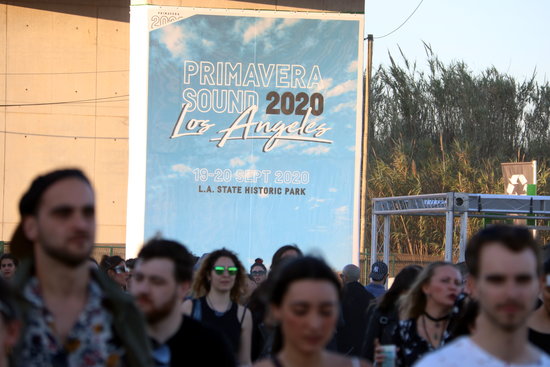 Barcelona's most iconic music festival, Primavera Sound, hit its all-time best attendance figures yet again: 220,000 concert-goers will have been in Parc del Fòrum when the show comes to a close on Saturday night.
The 2017 edition was the first one to surpass the 200,000 attendants, with last year's reaching an unprecedented 215,000 fans.
In a press conference on Saturday evening, the organizers also said that people from 124 nationalities joined the event, with 56% of them being foreigners.
Only on Saturday, 63,000 people will gather to see the likes of Rosalía and Solange, 3,000 more than on Friday, when Miley Cyrus, Carly Rae Jepsen and Janelle Monáe stole the show.
Primavera Sound will continue in Barcelona for its 20th edition from June 4-6 next year, but to celebrate the anniversary, the festival directors, Gabi Ruiz and Alfonso Lanza, announced that the event will also be exported to Los Angeles for September 19-20, in an outdoor venue at Los Angeles State Historic Park. Ruiz and Lanza are willing to consolidate this project so that it is not a one-off event.
Two other iterations of Primavera will also mark the 20th anniversary, one of which in Benidorm on November 8-9, 2019 and performing Belle & Sebastian, Primal Scream and Cigarretes after Sex.
The other one will take place in Porto, Portugal, on June 11-13, 2020, with Parque da Ciudade for its 9th edition.