Outcome of 5,000-strong gig experiment to be known on April 10
Doctor Clotet says that if clinical trial is successful, "anyone with a negative rapid test can go to a restaurant and not transmit Covid"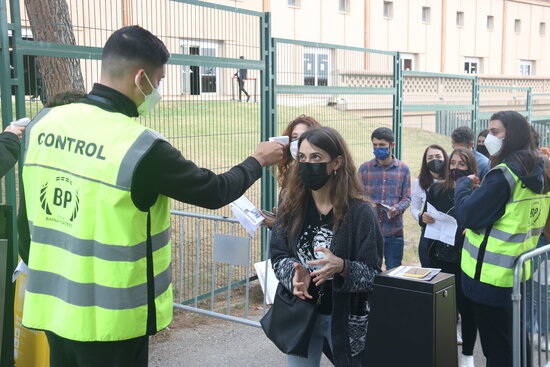 The outcome of the 5,000-strong concert experiment in Barcelona's Palau Sant Jordi will be known on April 10.
Festivals per la Cultura Segura, the organization, said they should have some data exactly two weeks after the gig took place and will share them with the Catalan health department before announcing the results.
On Monday, Doctor Bonaventura Clotet, the head of Infectious Diseases Unit at Germans Trias i Pujol University Hospital, said in a RAC1 radio interview that attendees will have some monitoring in the coming two weeks "to make sure they are not at risk."
Positive cases among the test group will be compared to those among the general population.
Clotet also said that if the clinical trial is successful, "anyone with a negative rapid test can go to a restaurant to have dinner on the very same day and not transmit Covid."
Large festivals this summer
"If the results confirm our theories, we will be open to considering putting on large events this summer," said Cruïlla festival's director, Jordi Herreruela, on Saturday, before the event, to the Catalan News Agency (ACN).
However, two of Barcelona's largest summer festivals, Primavera Sound and Sónar, have already been canceled for this year and postponed until 2022.
Palau Sant Jordi hosted a Love of Lesbian concert of Saturday with an audience of 5,000, standing, with face masks but no social distancing.
All attendees performed an antigen test earlier on Saturday, and only 6 out of the 5,000 who took it tested positive.
It was the first mass concert in Catalonia since Covid-19 first struck the country a year ago in March 2020 and has come in conjunction with an experiment run by Can Ruti hospital which aims to look into rapid tests.
Most of Catalonia's main festivals took part in its organization, including Primavera Sound, Sónar, Cruïlla, Canet Rock and Vida – as well as the Catalan government.
Festivals per la Cultura Segura highlighted the "civic responsibility" of all the concert-goers, who, according to Festivals, followed all the proposed health measures. They also referenced the "emotion" that came with putting on such an "unprecedented" event after such a long time.
"The Love of Lesbian concert in Palau Sant Jordi was an unforgettable moment for our country's musical history," read the statement made public on Sunday night.