Nathy Peluso takes over Sónar's first night ahead of new concert on second day
Music festival-goers had been waiting to see over 110 performances over three days since 2019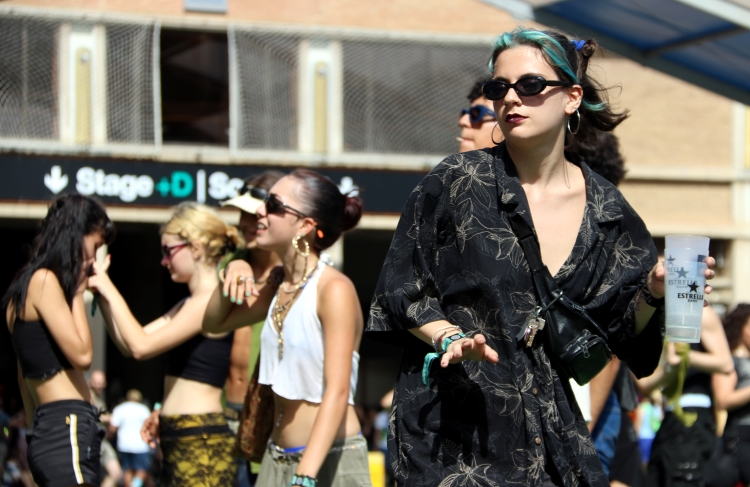 Barcelona's summer is not only about good weather, beach, and bars… but also about music festivals. The latest one to open its doors has been the Sónar after a two-year hiatus because of Covid-19. On Thursday, Sónar by Day and Sónar by Night welcomed hundreds of attendees.
Argentinian musician Nathy Peluso was one of the most awaited artists. Late Thursday night, Peluso sang some of her most iconic songs in the Sónar by Night event. Taking place at the Fira de Gran Via exhibition center, spectators got to enjoy her rendition of Camilo Sesto's 'Vivir así es morir de amor' ("to live like this is to die of love"), or 'Gato malo' ("bad cat") with trap singer Karol G.
Peluso will perform once again on Friday night. On Saturday night, it will be C. Tangana's time to shine, and who knows if Peluso and C. Tangana will surprise spectators by singing 'Ateo' (Atheist), their famous hit, together.
The first day of the music festival had been long-awaited with thousands of people holding their tickets since the 2019 edition ended. In fact, the first performances were still quite Catalan-focused with singers such as the Marta Torrella and Helena Ros duo, or the emo-trap phenomenon, Rojuu.
Sónar by Day
Although the vast majority of music fans went to the Sónar by Night festival, thousands went to Sónar by Day too. This was the first taste of the music festival after it opened its doors at the Fira de Montjuïc exhibition center on Thursday afternoon.
During the day, some DJ sessions were held, as well as some audiovisual shows. Some of the most important acts were by Tarta Relena, Simona, Sega Bodega, and even the Michel André conference with Hamill Industries or Ms Nina.
All of these were some of the first of Sónar 2022's 117 different activities, including performances and talks.
Barcelona's current high temperatures make it more difficult to enjoy the Sónar by Day outdoors. However, only one area is located outside, while the vast majority of activities are indoors.
On Friday, queer artist Samantha Hudson, but also shows by Morad, and b1n0 are among the scheduled events that Sónar by Day attendees can enjoy.
"Great feeling"

The first day of the event was one of the high points of the music festival. The organizers even had a "great feeling" when the show had just started, as Enric Palau, the co-director of the Sónar, said to the Catalan News Agency (ACN) on Thursday afternoon.
"It is a Sónar with extra enthusiasm and it feels like it will be a good edition," he said referring to the sold out tickets.
In fact, this will be an "extended" festival edition, Palau explained, because after Covid-19, "artists had more time to prepare new challenges, and for us to rethink the way we welcome them," he said.