Going to Sónar 2022? Here's a practical guide on everything you need to know
Music festival returns to city with day and night events and 117 performances including international DJs and artists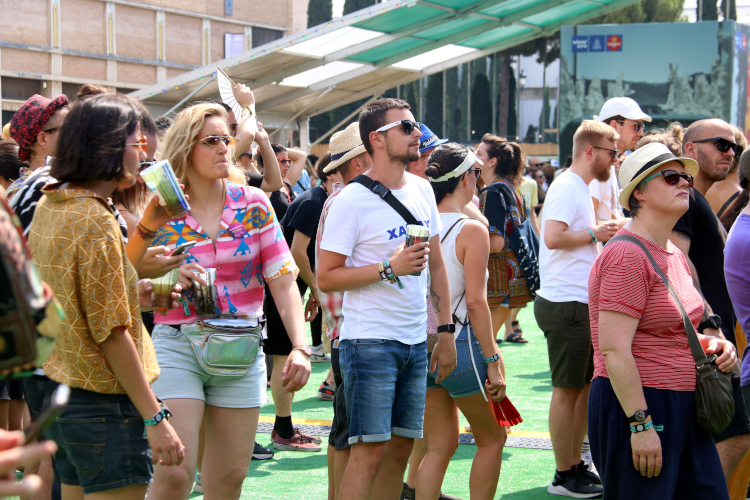 Sónar will return to Barcelona from June 16 to 18, with 117 performances across the three days. Among some of the most anticipated acts are The Chemical Brothers, C. Tangana, The Blaze, Moderat, and Nathy Peluso.
The music festival will be divided into two parts, Sónar by Day and Sónar by Night. While both will be held at Fira de Barcelona sites, Sónar by Day will be at the Montjuïc venue, with the night edition taking place at the Fira de Gran Via.
Sónar by Day, running from 1pm to midnight has a capacity of 17,000, while Fira de Gran Via will be welcoming up to 32,000 music-lovers from 9pm to 7:30am.
All the shows are listed online on Sónar's interactive website or available via this downloadable PDF version.
The event returns to its full normal pre-pandemic glory, with a similar budget to the one organizers had for the 2019 edition, €9.45m.
Sónar 2022: the essentials
Sónar does not only include live concerts and DJ sets. There will also be several other events in the SónarÀgora, including talks and debates on music. Another of the activities will be Virtual Reality DJing.
The stage where SónarÀgora will take place is in the Fira de Montjuïc area, during the Sónar by Day festival. There are also several speakers scheduled for Sónar+D.
Both Sónar by Day and Sónar by Night will take place indoors and outdoors. Both venues have open-air sites with several events arranged.
In both cases, there is going to be a stage and access to food, WCs, and any other basic necessities.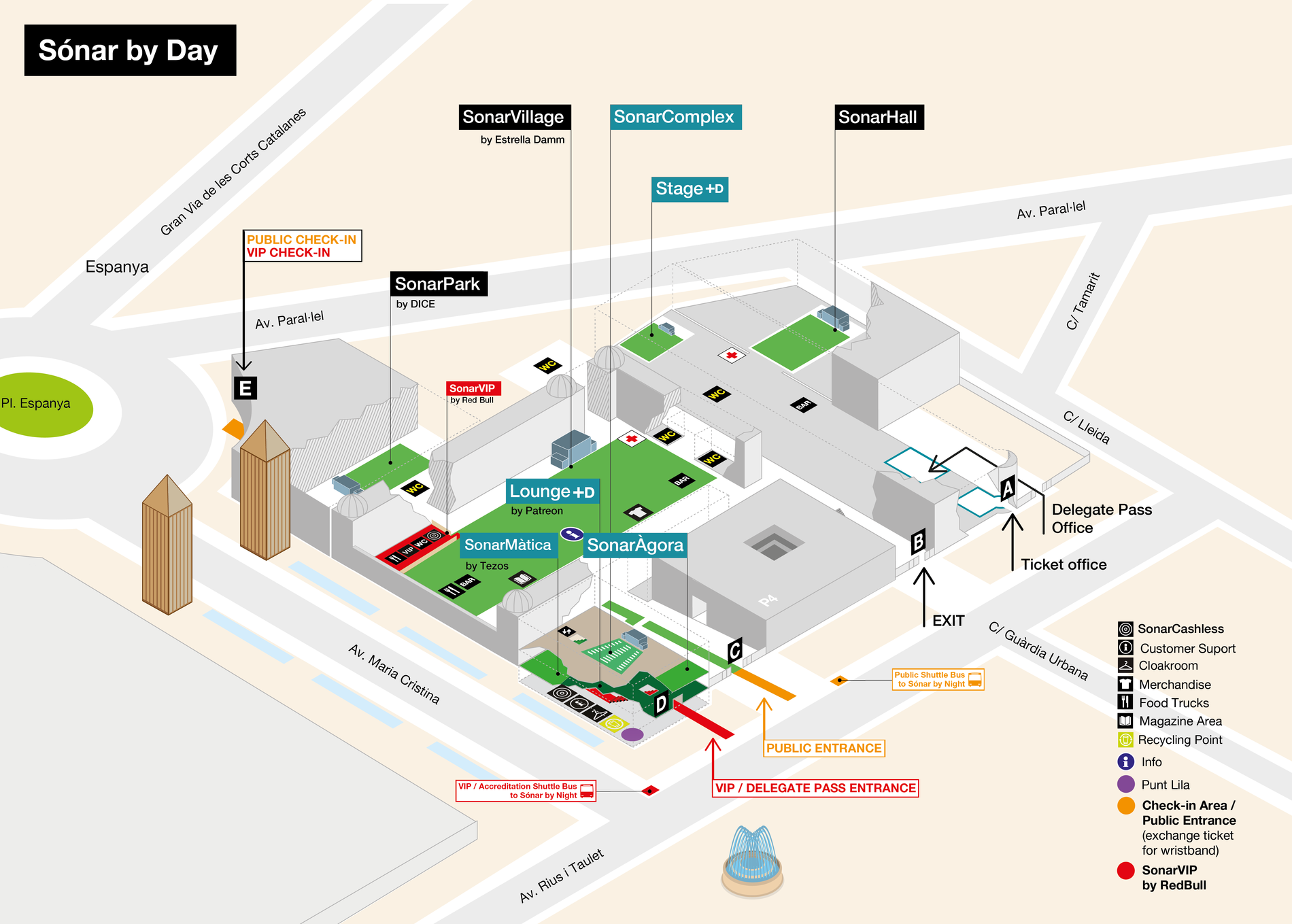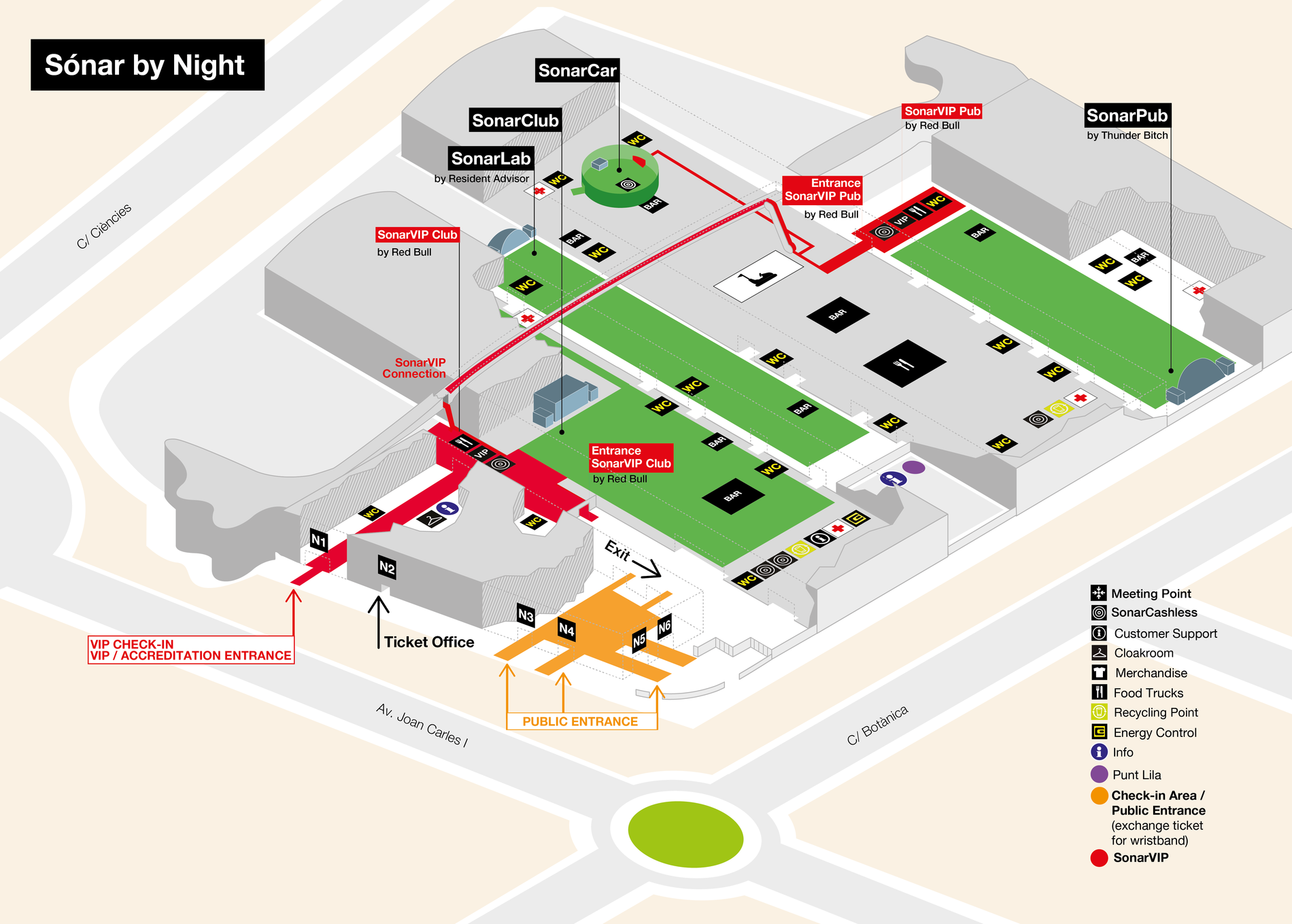 Maps can also be accessed using the Sónar App, which works offline, so there is no need to use data roaming. Schedules and other practical information can also be checked using the app, available for both Android and iOS devices.
Can I attend both Sónar by Day and Sónar by Night?
Access to the two parts of the festival depends on the ticket bought. Some ticket holders can access both by having a full Sónar pass, while others can only attend either Sónar by Day or Sónar by Night.
Some tickets are still available and can be purchased online. Tickets can also be bought at the box office but at a more expensive price.
Check-in
Before entering Sónar by Day or Sónar by Night, every attendee will have to check-in physically. Organizers will then exchange the entry ticket for a wristband, which will allow access to the festival and to pay for the goods inside.
Ticket holders will have to be present at the time of check-in, as tickets cannot be exchanged for wristbands for third parties.
The check-in areas are located in the orange part of the map for normal tickets and clearly signed on the maps for those holding a VIP ticket. In the Fira de Montjuïc venue, the normal and VIP check-in will be at Door E, while access will be through door C for the general public, and door D for VIP ticket holders.
Cashless festival
The festival, both during the day and night events, will be cashless. This means attendees will have to top up a wristband to be used as the "only way to pay at Sónar." They can do so in advance of the festival if they wish, until June 16 at 11am (local time).
Those who have bought the ticket on other websites can find FAQs on how to top up their wristband early.
Once in the festival, the wristband will be automatically loaded with the amount attendees have topped up after completing the check-in.
Inside the festival, spectators can use both cash and card to top up their wristbands in the several SonarCashless points placed throughout the venues. It can be topped as many times as needed but only in multiples of €5.
If someone loses their band, organizers are not responsible for it. Wristbands are personal and non-transferrable. Sónar reserves the right to decline wristbands that have been cut, pulled off, or otherwise visibly manipulated.
Once the festival is over, festival-goers can claim unused money back using an online form, between Tuesday 21 at 4pm, and Thursday 30 at 11.59pm. The link will be active from Tuesday 21 on Sónar's website. Each transaction will have a fee of €1.20 and will be paid via bank transfer.
Getting to Sónar by Day and back
Sónar by Day will be held in the Fira de Montjuïc exhibition halls. The area is quite central, next to Plaça d'Espanya.
There are plenty of options to reach the venue with metro lines L1 and L3 stopping in Plaça d'Espanya, but also city bus lines: D20, D40, H16, V7, 13, 23, 46, 52, 65, 79, 91, 109, 150, 165. There are also metropolitan bus lines such as CJ, L70, L72, L80, L86, L94, L95 that stop in the square.
The bus system in Barcelona works almost 24 hours every day, but is separated into two categories, the 'regular' bus lines, which operate from 6 am to 11.15 pm every day, and the night bus ("nit bus" in Catalan) which goes from 11pm to 6am.
FGC trains at Plaça Espanya are another option for getting to the Sónar by Day venue. Those arriving by high-speed train to Sants station can take the bus, a two-stop metro ride on L3, or a 15-minute walk.
Bicing, Barcelona's bike-share facility, also runs 24 hours a day. However, this system needs one-year membership.
For those getting there with a private vehicle, there is some parking available near the hall.
All ticket holders can get the Hola Barcelona Travel Card with a 25% discount to move around Barcelona freely. The festival ticket also includes a 25% discount to enjoy the Montjuic Cable Car, the Barcelona Bus Turístic, and the excursions of the Catalunya Bus Turístic: Easy Montserrat and Dalí's Figueres & Girona.
To get to Sónar by Day from Barcelona airport, travelers can take the L9S metro line from the airport, change at Torrassa, and then take L1 in the direction of Fondo, to Espanya.
There is also the Aerobus which costs €5.90 for a single ticket or €10.20 return ticket and runs from Terminal 1 from 5.35am until 1.05am with a maximum ten-minute wait. And for those landing at Terminal 2, the schedule goes from 6am to 1am.
Bus options include taking a longer route with the public bus line 46, direct to Plaça Espanya. It costs €2.40 for a single ticket, or is included in the unlimited trips if using the Hola Barcelona Travel Card.
Taking the Renfe-Rodalies train from T1 will include taking a Shuttle Bus, which is free, from T1 to T2 (Renfe Airport Station). From T2 take the Line R2 Nord to Barcelona Sants: from 5.42am to 11.38pm. There, travelers will take the L3 Metro to Espanya. From there, concert-goers can take the bus, a two-stop metro ride on L3, or a 15-minute walk.
Getting to Sónar by Night from Sónar by Day and back
There are several options to get from Sónar by Day to Sónar by Night and back: by car or taxi will take around 15 minutes, while metro, FGC train, or bus can take up to 30 minutes. There are dozens of options to go from one venue to the other one.
Sónar will put in place bus links, at a price of €2.50 per journey going from Fira Montjüic to Fira Gran Via venue. The L1 line will take 15 minutes and will operate Friday from 8pm to 12.30am and Saturday from 8.30pm to 12.30am. This will be a one-way journey.
The L2 line is an uninterrupted bus service between Plaça de les Drassanes and Sónar by Night, running Friday and Saturday from 8pm to 8am. This will be a two-way journey at a cost of €2.50 per trip.
VIP ticket holders and Delegate pass members will also have a second shuttle bus going from Sónar by Night to Plaça Espanya and Plaça Catalunya. This will run Friday and Saturday from 3.30am to 7.30am.
Getting to Sónar by Night and back
To get to Sónar by Night, there are several options, including taking the Sónarbus available to all ticket holders that connects Sónar by Day and the Plaça de les Drassanes square with the venue in Fira de Gran Via.
However, other routes include daytime buses H12, H16, 46, 65, 79, 150, night buses N1, N2, N13 ,N15, N16, N17, N18, the metro, and FGC trains. Metro lines run across the city between 5am and 12 midnight from Sunday to Thursday, from 5am to 2am on Fridays, and for 24 hours on Saturday.
FGC train lines have a different schedule and the last train from Plaça Espanya to Europa | Fira departs at 1:59am. The first train from Europa | Fira to Plaça Espanya departs at 5.54am.
To get to the venue from the airport, similar options are available. By metro, travelers can take the L9S direct to Fira. The bus line 46, direct to Plaça Europa, and then the nocturnal buses Lines N17,N18 if traveling from T1 or the Lines N16, N18 if landing in T2. For all these, Plaça Europa is the destination point.
What can I bring into the festival?
For security reasons entrance to the Sónar by Day and Sónar by Night venues is not permitted with suitcases or large bags, large backpacks, skateboards, professional camera equipment, food, or drink.
Smaller bags (40cm x 20cm x 25cm) such as handbags or small backpacks and motorcycle helmets will be permitted, but have to be left in the cloakroom.
Other objects forbidden are aerosols, drones, laser pointers, selfie sticks, or sharp objects.
Animals will not be allowed to enter either Sónar by Day or Sónar by Night.
Cigarettes and tobacco cannot be bought in the venues. Smoking is allowed only in outdoor areas of the festivals.
Food, drinks, and payment
Food and drinks can be purchased inside at many points dotted throughout the venues. At the festival bars, you can only pay using your wristband, which can be topped up before or during the festival.
There are also various areas for food stalls across both sites.
In fact, at Sónar by Day there will be a mix of gastronomy highlighting "the dynamism, diversity and culinary mix of Barcelona." The goal is to "shine a light on emerging chefs, paying tribute to their entrepreneurial spirit as well as the multicultural gastronomy," the Sónar website reads.
SonarVIP by Red Bull at Sónar by Day will include a restaurant area, with three newly founded Barcelona restaurants taking over the space on each of the three days of the festival.
Both festivals will also have several pop-up kitchens with vegan, vegetarian, and gluten-free options. Gluten-free beer will also be available.
Options include hamburgers, pizza, Asian cuisine, heura (meat successor), Fish & Chips, and even hot dogs.
All cups used during the festival are reusable, returnable, and recyclable. These will be available at all bars in the festival for €1. Each time someone orders a fresh drink, they will get a clean cup.
If anyone collects 10 cups and returns them to the recycling points, they will receive a free drink (excluding spirits or Red Bull).
Other general information about Sónar
First aid teams will be present at both Sónar by Day and Sónar by Night in the event that any visitor needs medical attention. Attendees can also speak with any staff member who can call a first aid team if they don't see them.
Toilet facilities are all indicated on the maps in both venues.
Lost and found items such as wallets, ID cards, and mobile phones will be automatically handed over to the relevant authorities due to new data protection laws.
For other items, people will need to contact Sónar starting Monday, June 20, with a description of what they have lost. If the item can be found, it will be in Sónar's offices until July 14.
SónarExtra: visiting Barcelona
During the week of the Sónar music festival, organizers have prepared a tour around Barcelona city center called SónarExtra.

The tour will start at Palau Güell, one of the few places capable of hosting a Hyperorgan, an organ activated by computer tools via MIDI. It will be the first time in Spain that this instrument can be heard, while walking through the Gaudí-designed building.
The next stop will be the Hotel ME Barcelona, where the public can visit the immersive audiovisual installation 'Transient' by the Italian artist Quayola.
The third and last stop of SonarExtra will be the Fundació Antoni Tàpies, where you can visit the sound installation Sondear, created in 2001 by Mika Vainio to record in real-time the urban environment through the vibrations of the sculpture Núvol i cadira (1990), which dominates the façade of the Fundació building.