Last Sixena artwork removed from Lleida
'The Virgin Mary' was the only piece that remained in Catalonia after the disputed items were transferred to the Spanish region of Aragon in December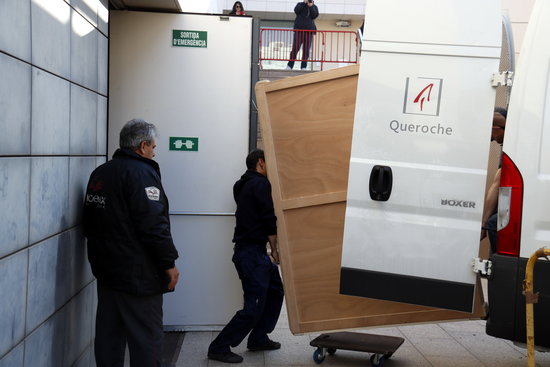 The last Sixena artwork remaining in the Lleida museum has been removed. At nine in the morning, technicians from the neighboring Spanish region of Aragon came for the painting known as 'The Virgin Mary', which was still in the Catalan museum. In less than hour, the technicians had loaded the piece into a van, which then left the museum in the direction of Aragon.
It was the only Sixena artwork still in the museum, after the other disputed pieces were removed from Lleida and transferred to Aragon in December. 'The Virgin Mary' was not taken to the Sixena monastery in Aragon with the other pieces because it was not in the Lleida museum at the time. Yet, the Sixena monastery continued to claim the painting and, some days later, the Lleida museum found it in the Lleida bishop's palace and informed the Huesca court that had ordered the artworks be returned.
Removed from Lleida in December
The disputed pieces were removed from the Lleida museum amid protests on December 11, and were returned to their original location in the Sixena monastery. Despite having been legally bought by Catalonia, on November 15, a Huesca judge upheld a request by the Sixena local authority and ruled that the works of art must be returned to the Sixena monastery.
Another judge in Aragon then ruled that the art pieces could legally be removed from Lleida. The move came only a few days after the Spanish culture minister, Íñigo Méndez de Vigo, ordered the pieces to be returned to Aragon, with the Spanish government directly controlling the Catalan administration. On July 2016, 53 pieces from Sixena were returned from the MNAC gallery in Barcelona in a voluntary gesture by the then Catalan culture minister, Santi Vila. Today's removal was just the latest chapter in a long legal dispute between both administrations over the works.