'La hija de un ladrón' and 'Els dies que vindran' are Gaudí Awards' biggest winners
Maria Rodríguez wins Best Female Lead while Karra Elejalde is Best Male Lead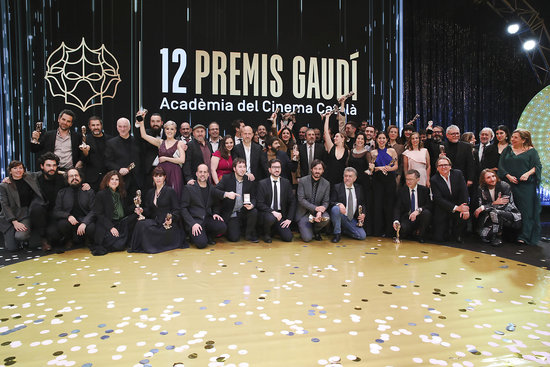 The most important event of the year for those who work in the Catalan film industry, the Catalan Film Academy's Gaudí Awards ceremony, has come to an end, and 'La hija de un ladrón' and 'Els dies que vindran' are the 12th edition's biggest winners with 3 prizes each.
Held at the International Barcelona Convention Center on Sunday, the Catalan version of the Oscars recognized last year's top productions and professionals in a total of 21 different categories. This year's edition was the most gender-equal in terms of nominations, with a larger than usual number of women.
Maria Rodríguez was awarded Best Female Lead for her role in Carlos Marqués-Marcet's 'Els dies que vindran', which also won Best Catalan Language Film and Best Editing. It is about is a young couple, Vir and Lluís, who find out Vir is pregnant only a year into their relationship. The movie follows Vir's pregnancy, and their relationship, over nine months.
'La hija de un ladrón' also scooped three awards at the Gaudí's: Best Non-Catalan Language Film, Best Screenplay, and Best Director for Belén Funes. Funes' film delves into the life of a young mother, Sara, whose father is released from prison and is back in the picture after having been absent for many years.
Karra Elejalde was awarded with Best Male Lead for 'Mientras dure la guerra', directed by the famed Alejandro Amenábar.
Funding problems hit the industry
When it was Catalan Film Academy president Isona Passola's turn to speak, she used the platform as another opportunity to denounce what she – and a few other industry professionals – had already described as the decline of Catalan cinema due to a lack of funding: "Unfortunately, this year we have hit rock bottom."
Politicians attend top Catalan film awards
Besides the many actors and film professionals that were in attendance, there were also a few politicians in the audience, such as Barcelona mayor Ada Colau, Catalan parliament speaker Roger Torrent or Catalan government spokesperson Meritxell Budó, as well as Spain's new culture minister, José Manuel Rodríguez Uribes.
Best Catalan Language Film: 'Els dies que vindran'
Best Non-Catalan Language Film: 'La hija de un ladrón'
Best Female Lead: Maria Rodríguez, for 'Els dies que vindran'
Best Male Lead: Karra Elejalde, for 'Mientras dure la guerra'
Best Director: Belén Funes, for 'La hija de un ladrón'