Jaume Plensa's 'Anna' sculpture unveiled in Montserrat's basilic
Mesh head of a girl with closed eyes reflects on relationship between the interior and exterior, says Catalan artist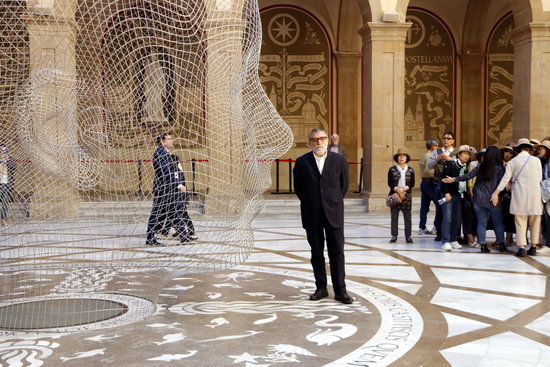 'Anna' is the name of a new artwork by Catalan sculptor Jaume Plensa in the restored atrium of the basilica of Montserrat, in the famous abbey on Montserrat mountain.
A four-meter high head of a girl with closed eyes, 'Anna' is made of mesh, making the sculpture transparent, to expose the relationship between the interior and exterior.
At the sculpture's unveiling, Plensa thanked Father Laplana, the head of the Museum of Montserrat, for commissioning the work, which will only be at the abbey temporarily.
One of Catalonia's highest-profile artists
Plensa is one of Catalonia's highest-profile artists, although he is perhaps best-known abroad, where his work can be seen in such places as Chicago, London and Tokyo.
In fact, last year's retrospective by Barcelona's Contemporary Art Museum (MACBA) ended a 22-year period without an exhibition of the sculptor in the city in which he was born.
Plensa is especially known for his works shaped like human heads, as in the case of 'Anna', or his piece 'Carmen' outside the modernist Palau de la Música concert hall in Barcelona.
Other examples of his work include his black granite and glass 'Crown Fountain' in Chicago's Millennium Park, and his memorial sculpture 'Breathing', which adorns BBC HQ in London.