Immersive Monet exhibit opens Barcelona's new digital arts center
Iconic former cinema in city's Poblenou neighborhood reopens as cultural venue with tribute to impressionism through virtual and augmented reality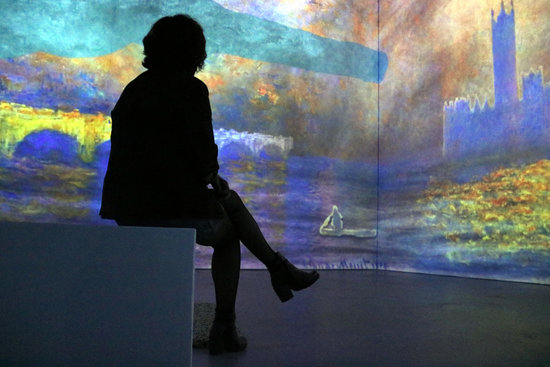 The iconic Ideal cinema in Barcelona's Poblenou neighbourhood is reopening as the first digital arts center in southern Europe, with an exhibition on the painter, Claude Monet.
The 2,000-square-meter cultural center uses audiovisuals, augmented and virtual reality, and holograms to immerse visitors in the world of the father of impressionist painting.
'Monet: l'experiència immersiva' (Monet: the immersive experience), co-produced with Exhibition Hub, has been chosen to inaugurate the center, and runs until February.
Yet, the exhibition is just the start, as Ideal will also offer digital arts commissioned by the MIRA festival, a series of impressionist concerts, and talks as part of the OFFF festival
First digital cultural center in Spain
The only digital cultural center of its kind in Spain, Ideal launches this autumn with an exhibition that offers 360º projections that immerse the viewer in the world of Monet.
The center's main space features large format, high definition projections detailing Monet's painting technique, as well as the history behind his most popular artworks.
The virtual reality zone takes the visitor through the artist's life, his childhood in Le Havre, his youth in Paris, his stays in London, family life in Argenteuil, and his final years in Giverny.
"You put on the augmented reality glasses and you are walking through the six most important paintings of Monet and of impressionism," says the Ideal's director, Jordi Sellas.
Remembering an iconic venue
In the future, the digital arts center will also have a room dedicated to remembering the life of the local neighbourhood and the city, and the former cinema's place within them.
There will be a documentary about Resquillín –as the venue is popularly known– that will review its history as a skating rink, a theatre, a boxing ring, a cinema, a bar, and a TV studio.
"For us it was important to show respect for the history of the building and the people who have passed through it," says Sellas, who sees a new Ideal as a tribute to Poblenou.