Human tower teams plan first show since pandemic in clinical Covid study
Two groups with 50 members each will form pillars in Valls to celebrate Sant Joan festival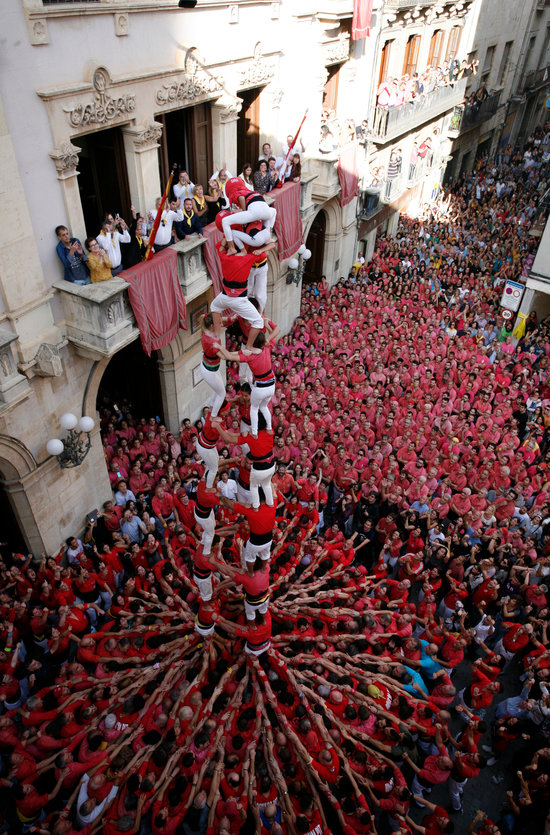 Human towers, known as 'castells', are to return to the town of Valls in Catalonia for the first time since the pandemic began.
The dramatic beauty of Catalonia's traditional human towers is only made possible by dozens or even hundreds of people coming closely together to sustain the base of the 'castell' (Catalan for castle) - an activity that makes social distancing virtually impossible and which has brought the performance to a complete standstill during the pandemic.
After a year and a half, 'castells' will finally be returning as two of the oldest human tower teams in Catalonia prepare to perform again, in a way which will also act as a pilot test for future Covid-19 protocols.
The two teams, the Colla Vella dels Xiquets de Valls and the Colla Joves Xiquets de Valls, will perform as part of celebrations for Sant Joan, Catalonia's festival of fireworks and food, approaching on June 24. Each of those teams will have 50 members ('castellers') each, and aim to build a 'pilar de cinc', a 5-storey human tower consisting of five castellers standing on each others' shoulders, with support from other castellers at the base in the town's Plaça del Blat square.
With all participants needing a negative antigen test result before taking part, the event will be like a pilot test to see if Catalonia's traditional human towers are able to return safely during the pandemic. Seven days after the event, therefore, another antigen test will also be conducted to see if the virus has indeed been transmitted.
First time back since Covid-19
Since the outbreak of the pandemic in March 2020, human towers have been unable to go ahead, whereas normally there would be around 900 events and 10,000 'castells' built each year.
"I'm excited, emotional and very happy," said Albert Martínez, leader of the La Vella group. "We're recovering from the injury which has been a year and a half without activity. It's like taking our first steps before being able to start to run again."
Martínez added that the pilot will favour "the entire world of 'castells'", and all teams that wish to return across Catalonia. So that the event may be able to be replicated, the mayor of Valls, Dolors Farré, also emphasised that "it's not about who does it first, it's about doing it well, with all the preventative measures because the priority is safety".
The return of human towers for Sant Joan is significant not only for the teams participating, but also for the spectators who equally have not been able to watch the performance for over a year. Although, while there will be an audience at the Plaça del Blat square, only members of the two participating teams will be able to attend. They will be seated with some distance, and another section of the street will also be incorporated to accommodate more chairs.