Girona International Circus Festival gets 10th anniversary edition underway
Over 90 artists from around the world will perform in north Catalan city including 12 European debuts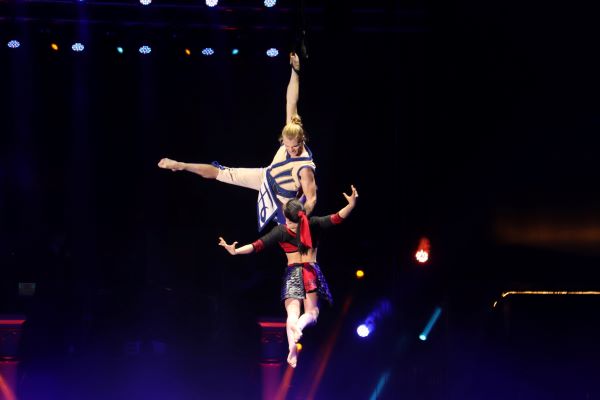 The Gold Elephant Girona International Circus Festival celebrates its 10th anniversary this year, featuring twelve groups making their European debut.
Divided into two semi-final shows, red and blue, artists participating in the festival seek the approval of the public and the judges in order to get a place in the final, due to be held on Tuesday, in the 'Gold Show'.
This year, performers come from all over the world, such as American-Canadian Duo Mico, an aerial strap act; Mongolian group Troupe Zola New Generation, whose coach won the first festival, now ten years ago; and Peter Campa, a clown whose routine consists of playing the Titanic soundtrack with a harmonica in his gloves.
Campa, from Mexico, has said that participating in the Girona Festival is an opportunity to present his shows to a European audience, one of the "dreams" of clowns in Latin America.
The event also features Hermanos Latinos, two brothers also hailing from Mexico whose peculiar act consists of climbing stairs on top of each other holding their heads together.
The first performances took place on Thursday morning, to give the schools in the northern Catalan city an opportunity to see the shows as they won't be able to watch with the general public, given doors do not open until half past eight in the evening.
On Friday it is the turn of the 'red show' to take center stage, before repeats of both throughout the weekend. Exact times can be found on the event's website.
The festival's director, Genís Matabosch, said that achieving this feat was "a real challenge" for the organizers, but was ultimately pleased that all the artists made it to Girona. In total, the festival features 94 different artists coming from 11 countries around the world.
Nonetheless, the event is still subject to some Covid measures. "Everyone is double or triple vaccinated and the necessary tests have been done,""added the director. Furthermore, it is operating at 70% capacity, however this still leaves room for over 27,000 seats.
Tickets start at €16 and range depending on seat, going all the way up to €95 for some VIP spots. Luckily, discounts are available for children, students and groups.