Gandules outdoor film screenings explore quantum physics
Barcelona's center of contemporary culture offers nine movies in the open air that challenge notions of reality until August 22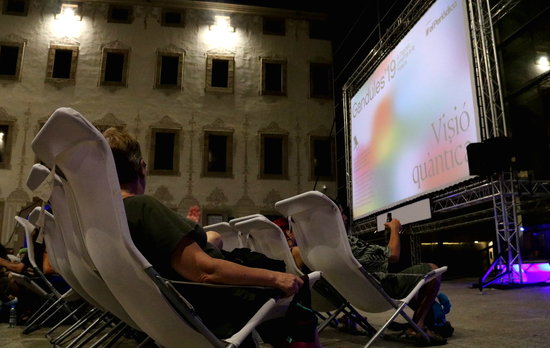 Barcelona's center of contemporary culture, the CCCB, kicked off its Gandules program of outdoor summer film screenings this week, which will go on until August 22.
With screenings every Tuesday, Wednesday and Thursday at the center's Pati de les Dones, Gandules offers nine films based on concepts deriving from the quantum revolution.
The cycle of movies curated by film critic Jordi Costa runs alongside the center's main exhibition, Quantum, which is on all summer, until September 24.
Gandules are deckchairs in English, and sitting back and enjoying a film on a summer's evening is the essence of the cycle that began on Tuesday with 'High Life' by Claire Denis.
Over the next couple of weeks, Gandules '19 will offer a range of movies, including David Lynch's 'Twin Peaks: Fire Walk with Me' and 'Ayudar al ojo humano' by Velasco Broca.
Tuesday's opening night was full to bursting, with all 650 deckchairs in the CCCB's courtyard taken up, and some of the spectators having to sit on the steps.
Quantum programming
The films in the cycle have been chosen with the aim of connecting quantum theory with the notion of the postmodern narrative that dispenses with realism.
Wednesday's screening is Lynch's 1992 prequel to the famous 'Twin Peaks' TV series, an example of the films that show parallel universes, time travel and overturn the rational order.
Meanwhile, on Thursday it is the turn of Broca's four short films that work together as a single feature, considered one of the most innovative films in Spanish cinema.
Next week's films are 'Uncle Boonmee Who Can Recall His Past Lives' by Thai director Apichatpong Weerasethakul, Palme d'Or winner 'Symbol' by Hitoshi Matsumoto, and 'Mind game' by anime director Masaaki Yuasa.
The final week of Gandules will feature 'Fish and Cat' by Iranian director Shahram Mokri, 'Donnie Darko' with a youthful Jake Gyllenhaal, ending with a double bill, 'Je t'aime, je t'aime' by Alain Resnais and Chris Marker's 'La jetée'.