Dua Lipa's concert thunders Barcelona after three postponements
Singer to perform in city again during Primavera Sound music festival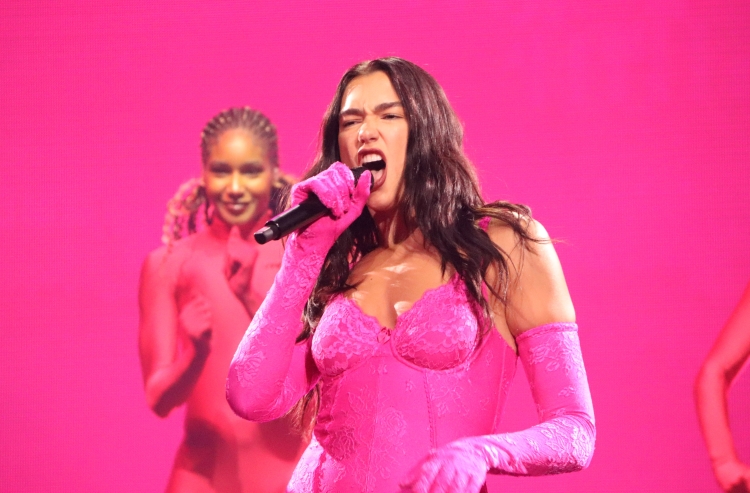 Loves, as Dua Lipa calls her fans, could not contain their emotions at the British singer's concert in Barcelona on Wednesday night. In the Palau Sant Jordi concert venue, as full as it used to be before the Covid-19 pandemic, the artist sang her most known hits, such as 'Physical', 'Levitating,' and her collaboration with Elton John, 'Cold Heart'.
The show started with some delay as people were still queueing at 9pm, when the concert was expected to start. Wearing a pink elastic jumpsuit the singer was welcomed with a huge ovation from the public that had been waiting for this moment for years.
Even, right from the get-go, fans did not stop singing along with the artist.
"It's a dream come true that we are finally putting this show on," the singer said after her sixth song. "I knew it was going to be fun, but six songs in, I know it is going to be crazy," she added.
Dua Lipa reminded all her fans that in the Catalan capital she has even recorded one of her "favorite videos: Physical."
In fact, this was the opening song to the concert which had unique moments such as plenty of Dua Lipa dancing alone, where fans shouted and applauded.
But what probably has become the most authentic and memorable moment of the night, it is not when she felt while dancing on stage, but while singing her 'Electricity' hit. At that moment, the whole Palau Sant Jordi joined as the chorus of what was one of the most awaited performances in the city for so many.
A show is nothing without its balloons falling from the sky, but Dua Lipa went a step further and flew on top of her fans.
A metallic installation hanging from the ceiling descended for the singer to hop on and started being lifted up to the air while singing her 'Levitating' song, which is now also an anthem for so many.
The stage had a massive display with several videos of her, and even a video from Elton John singing along Dua Lipa their famous hit 'Cold Heart'.
Attendees went crazy each time the artist returned to the stage from a brief pause, as she performed four different acts, before closing with the encore. Which she finalized falling from the middle of the stage.
Each time she came back, she was wearing a different dress, completely switching it from the pink at the beginning to a swimsuit later during the night or to another elastic jumpsuit full of sequins.
Fans have been waiting for this concert for years, as it was first scheduled for April 28, 2020. Since then, promoters have had to postpone it up to three times until the Loves finally got to enjoy Dua Lipa on Wednesday.
The concert in the Palau Sant Jordi had been sold out for a long time, with a maximum capacity of 17,000 people.
The several rescheduling has led to the unusual coincidence of Dua Lipa performing in Barcelona twice in less than 10 days. After her tour concert on Wednesday, the singer will then go to Madrid on June 3 but then return to the Catalan capital on June 9.
She is headlining the music festival Primavera Sound during the second weekend of the event.
Pandemic set new rules
Covid-19 has been a turning point in Dua Lipa's career, since March 2020 she has become an internationally acclaimed artist. During the first days of lockdown, thousands of Catalans got to listen to 'Physical', which was at the time, her latest single ahead of the 'Future Nostalgia' album.
In fact, Dua Lipa even dropped her album a week earlier than was expected, on March 27, 2020 instead of April 3. Her music allowed hundreds to dance around their houses during the period of social distancing.
"I hope [the album] brings you some happiness, and I hope it makes you smile, and I hope it makes you dance. I hope I make you proud," she shared during a live stream back then.
Award-winning artist
Her career did not only start with the Covid-19 pandemic, in fact, she released her first album in 2017. Back then, she reached third on the UK Albums Chart, and some of her singles 'IDGAF' and 'Be the One' were danced to all over the world. Even her single 'New Rules' reached number one in the UK and number six in the USA. The song was one of the Top 100 songs in 2017 in Spain.
Dua Lipa has also performed with DJ Calvin Harris with their 'One Kiss' anthem that is still danced up to today, as fans proved during the concert in Barcelona.
Dua Lipa has been awarded several prizes, including Grammy Awards, Brit Awards, MTV Europe Music Awards, Billboard Music Awards, and two Guinness World Records, to name a few.
One of these Guinness World Records was set in December 2021 when the singer had the "world record for most tickets sold for a live-streamed concert by a solo female artist (current year) with a total of 284,000 tickets sold," the Guinness World Record website reads.
The other one was set for having the "most monthly listeners on Spotify (female), with 64,966,102 monthly listeners as of 28 September 2021."