Dancing hippos, painters, literary tours: FiraTàrrega performing arts festival begins
The three-day event started on September 6 and will feature an especially international lineup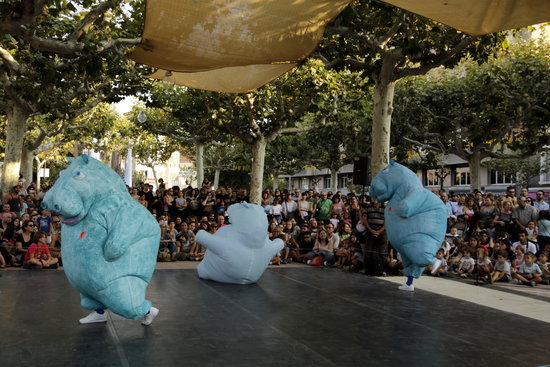 Street theater is accessible to all at FiraTàrrega – one of the world's foremost performing arts festivals, which officially kicked off this week in the western town of Tàrrega from September 6-9.
'Typescript of the Second Origin' comes to life
Iconic Catalan writer Manuel De Pedrolo would have been one hundred years old today, and in honor of this anniversary FiraTàrrega is also hosting an atypical event: a literary tour of places linked to the author's life.
One of Catalonia's most famous writers, De Pedrolo penned the sci-fi classic 'Typescript of the Second Origin,' a post-apocalyptic coming of age narrative. The town featured in the tale is called Benaura – but through many allusions, it's clear that the place is actually Tàrrega.
De Pedrolo wasn't only a fiction author, though, also delving into poetry, theatrical narrative, translations, and more. The tour is led by literary critic and foremost expert on the writer Xavier García. The tour ends with an exhibition on De Pedrolo.
'Hippos' asks – what is animal, what is man?
Inaugurating the event was the performance 'Hippos,' the very first created for the outdoors by the Zum Zum Teatre theater company from the western town of Lleida, under the direction of choreographer Quim Bigas.
Beyond depicting a playful interaction between performers dressed in inflatable hippo costumes, 'Hippos' to draw the viewer into asking themselves questions about humans, animals, and which creature's aspect is most evident in the theatrical dance piece.
What is FiraTàrrega?
Held annually during the second weekend of September, the festival showcases original and unconventional street performances, while also acting as a meeting place and market for the performing arts sector, both home and abroad.
Some of the performances audiences can expect are the French 'Gaugin's Turtle' – which opened the fair, There was even a dance party at the Blockchain modular art installation.
Focus on Mexico and Chile
FiraTàrrega is an international festival and this edition has 16 foreign shows, with a special focus on Mexico and Chile. There are five shows from Mexico, while two Chilean directors will make their debut at the fair. Other performers will come from Poland and England.
This year's edition will feature some 50 distinct shows by artists from eight countries, amounting to 227 performances in 22 different venues in the city, most of them outdoors. The focus of the celebration this year is reinterpreting the contemporary public space. Around 12 of the shows this year are co-produced by the festival itself.