Cirque du Soleil's first ice show arrives in Barcelona for ten special performances
CRYSTAL combines ice skating with acrobatics in spectacle that defies imagination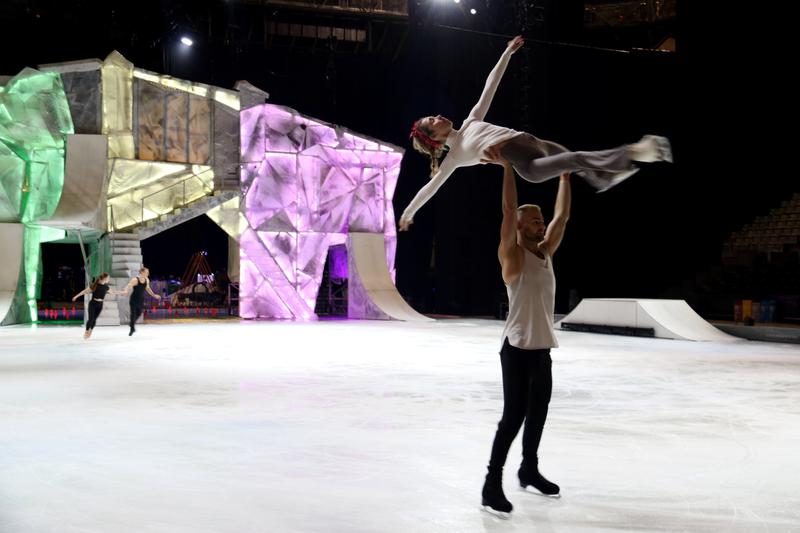 Acrobatics, ice skating, music, costumes, and dozens of performers will form part of Cirque du Soleil's first ever ice show, CRYSTAL. The spectacle premieres in Barcelona on Thursday and will be in the city until January 22.
Ten special performances in the Palau Sant Jordi will defy the imagination of spectators for eight days before the show continues on its international tour.
White, black, blue, orange, red – the show's color palette is extraordinary, as each artist dons three or four different costumes throughout the show, meaning quick changes between every scene.
"A lot of the performers wear other costumes below, allowing them to change in like 15 seconds or something like this," Isabel Franco, head of wardrobe at Cirque du Soleil's CRYSTAL show, told media outlets hours before the premiere in the Catalan capital.
Some of these costumes are equipped with full-length zips running from ankle to ankle along the inside seam to allow skaters to change without removing their skates. Some even have magnets attached to enable quicker changes.
CRYSTAL is Cirque du Soleil's 42nd creation and explores the creative possibilities of ice for the first time. For the show, artists combine stunning skating and acrobatic feats, melding circus arts and ice skating.
Over eighteen different nationalities are represented in the cast which features figure skaters, extreme skaters, freestyle ice skaters, acrobats, musicians, and a comic character.
The show follows the lead character, Crystal, on an exhilarating tale of self-discovery as she dives into a world of her own imagination.
"The whole show is wrapped up into a story about Crystal, a young woman who is really going on a journey of self-discovery, who meets her own reflection, who faces her shadows and who goes on a journey to find out her biggest strength is her creativity," Rob Tannion, CRYSTAL's artistic director, told Catalan News.
To escape her reality, she ventures out on a frozen pond and falls through the ice into an upside-down world.
"Kinda like in Alice in Wonderland, when she falls through the rabbit hole, and that's where the adventure begins," Robin Johnstone, an actor at Cirque du Soleil who plays Crystal, told this media outlet.
Crystal sees a reflection of herself in this underwater world of her imagination. Her reflection guides her through this new world and wakes her up to her own creativity.
As she continues her journey, she turns her quirks into creativity with the stroke of her pen. With this newfound power, she can find her true self and journey back to reality.
Hours of practice
For Cirque du Soleil's first ice show, artists have spent hours practicing on the new setting. They all seamlessly combine multiple disciplines together, from synchronized skating to freestyle figures, and circus disciplines such as swinging trapeze, aerial straps, and hand-to-hand movements.
To make it all possible, figure skaters learned to be pushers on Chinese poles, circus artists learned how to skate, and extreme skaters learned figure skating moves.
"It's a very high level and we are always learning and we are always pushing ourselves," Johnstone told Catalan News.
"Because we do have a lot of acrobatics, and we have the ice skaters, we get to all work together and we are always like pushing each other to learn new cool things," she added.
A feeling shared by Rob Tannion. "There is a lot of common language between acrobatics and ice skating that we share, and just as you say: 'Why?', I say 'Why not?'"
"I think the world of the arts crosses over more and more as we go along, and if we can take a genre and continue to shake it a little bit, it will continue to grow," he continued.
Performers get to practice for around one hour per day, but when there are shows, their hours average between 12 to 15 easily.
Show in Barcelona
Crystal will be in Barcelona from January 12 to 22 for ten special performances.
The show takes place in the Palau Sant Jordi hall, and tickets are available online at LiveNation's website.
Prices range from €32 to €114.5. Children aged two to 12 have a 20% discount.