Cinemaattic brings the biggest Catalan film festival ever to Scotland
Watch Catalan films, eat and even learn to cook Catalan food and witness unique Catalan traditions in Scotland to kick off the Winter season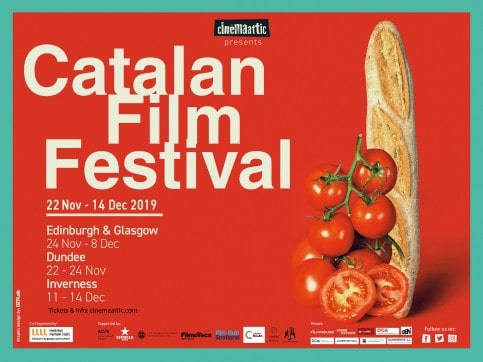 Between November 22 and December 14, Scottish citizens will be treated to over 20 Catalan classic films, modern favourites and award-winning short films. The cities of Edinburgh, Glasgow, Dundee and Inverness will host three weeks of Catalan cinema and culture coming in the form of Catalan films, music, food and performances organized by film company Cinemaattic.
The festival, sponsored by the Institut Ramon Llull, will kick off properly on Sunday November 24 with the Castellers (Human Towers) before a series of internationally acclaimed Catalan short films will be shown, and attendees will be able to tuck in to a Catalan Gastronomic Dinner as well as a glass of cava, organized by Scotland's Catalan Center.
The festival will run until December 14, with events dotted around some of the nation's most popular cinemas including the Edinburgh Filmhouse, Cameo Cinema, Glasgow Film Theatre, DCA Dundee, CCA Glasgow and Eden Court Inverness.
Standout inclusions for the 2019 edition, which is the biggest edition in Cinemaattic's history, are 'Entre Dos Aguas' ('Between Two Waters'), the San Sebastian Film Festival Golden Shell-winning screenplay of Isaki Lacuesta, critically acclaimed 'Els Dies Que Vindran' ('The Days to Come') of Goya award-winning director Carlos Marques-Marcet and 'Journey to a Mother's Room' by Celia Rico, featuring Lola Dueñas and Anna Castillo.
Classics brought back to life

The festival will also look to rediscover 'Catalan Classics', with a special screening of 'In the Diamond Square' based off the novel of Mercè Rodoreda, arguably the most influential Catalan author of the 20th century.
Speaking about the Catalan Film Festival, Alberto Valverde, Programme Coordinator of Cinemaattic said: ''We are very excited to be hosting our third festival dedicated to Catalan films and culture with what is sure to be our best yet. The events provide a multi-dimensional portrait of Catalan culture with its own language and traditions and we're delighted to be able to showcase it in Scotland's top venues expanding to two new cities this year - Dundee and Inverness.''
The organization's third Catalan Film Festival will ''aim to be a platform for debate and a bridge for mutual understanding" and a "love letter to Catalonia and Catalan language by a group of Spaniards and international professionals willing to demystify preconceived ideas around the Catalan conflict.''
''We love Spain and the mixture of cultures, contradictions, peoples, languages, and traditions that coexist within the country...but we also want to put the spotlight on with specific retrospectives such as the Catalan Film Festival with which we aim to offer a picture of Catalonia that goes beneath the surface and the kitsch postcard,'' said Valverde.
Rising stars given spotlight
The programme has maintained its support for emerging talent and short films, with a diverse selection of short films to be shown across the various cities.
This year, Irene Moray's 'Suc de Sindria,' nominated for best European Short film, 'Greykey' by Enric Ribes, a film centered around a black Spaniard that survived the Mauthausen concentration camp, and 'Adalamadrina' by Carlota Oms, a portrait of youtuber who claims to be a love expert online yet struggles to find meaningful love in real life, are notable inclusions. More on the full schedule of short films and the whole festival can be found here.
Discover Catalan culture

There will also be workshops held with the intention of spreading Catalan traditions, for example how to prepare the perfect 'pa amb tomàquet' (Catalan bread with tomato) or how to form a human tower.
In Glasgow, Saramago Cafe Bar will prepare a special Mediterranean menu of Catalan Tapas on November 27 and 28.
The festival also explores connections between other artforms as well as cinema - there is a paella performance, in which Barcelona-based group 'Compartir Dona Gustet' will team up with Scottish avantgarde noisemakers 'Neu! Reekie!' for a series of performances between Catalan and Scotland poets while the traditional dish is cooked.
Catalonia is something of a powerhouse for filmmaking - the 'Escuela de Barcelona' was a revolutionary cinematic avantgarde group in the 1960s, and today the city is still an international reference for the study of creative documentaries and non-fiction. Several Catalan films picked up top awards at several prestigious film festivals in 2019.
So why is it such a pioneer for cinema? ''Join us and find out!'' says Valverde. Purchase your tickets at the official festival website.