11 nominations for Catalan-language 'Alcarràs' at 2023 Goya Awards
Carla Simón's film will compete with 'As bestas,' 'Cinco Lobitos,' 'La Maternal,' and 'Modelo 77' for Best Movie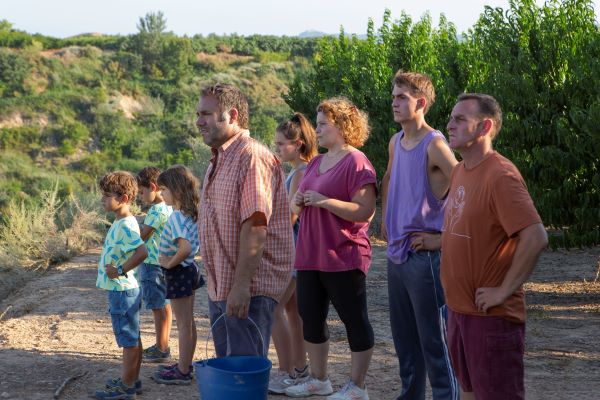 Catalan-language movie 'Alcarràs' was nominated for 11 awards for the 2023 Goya Awards, which will take place on February 11 in a ceremony in Seville.
The nominees for the 2023 Goya Awards, Spain's equivalent of the Oscars, were announced on Thursday, with 'As bestas,' directed by Rodrigo Srogoyen, leading the shortlist with 17 nominations.
Both 'Alcarràs' and 'As bestas' have been nominated for Best Picture, which will compete against 'Cinco Lobitos' (Five Baby Wolfs), 'La Maternal' (The Maternity), and 'Modelo 77.'

'As bestas', with Denis Ménochet and Marina Foïs as its main characters, takes place in a small village in Spain's north-western region of Galicia, where this French couple moves to. There, despite the quiet life they have, relationships with locals are not as easy as they expected to the level of pushing tension to a point of no return.
'Modelo 77', is a movie that takes place in Barcelona's infamous Model prison in 1977, has been nominated for 16 Goya Awards. Among them, Spanish actor Miguel Herrán has been shortlisted for Best Actor for his role as Manuel, who faces a 20-year sentence that far exceeds the severity of the crime he has committed.
Herrán will compete for the Best Actor award against Denis Ménochet, Luis Tosar from 'En los márgenes' (on the side), Nacho Sánchez for his role in 'Mantícora', and Javier Gutiérrez, also for his paper in 'Modelo 77'.
'Alcarràs' director Carla Simón, who won the Best New Director for her first movie 'Estiu 1993' (Summer 1993) in 2018, will now compete for the Best Director Award on February 11. Against her, Alberto Rodríguez, who directed 'Modelo 77'; Rodrigo Sorogoyen for his 'As bestas' movie, Pilar Palomero, after leading 'La Maternal' and 'Mantícora''s director Carlos Vermut.
Simón's movie is currently the most internationally-recognized Catalan film. Right now, it is competing for an Oscar nomination.
The movie is a tribute to rural life and it tells the story of the last fruit harvest that a family goes through on their farm where they have cultivated peaches for generations before they must leave the land after the owners decide to install solar panels.
The Catalan-language movie won the Golden Bear at the Berlinale International Film Festival in the German capital in February, the highest award at one of the world's most prestigious film festivals. Regarding the movie, Catalan News prepared a unique Filling the Sink podcast episode of an in-depth analysis of the movie, its director and the current situation of Catalan cinema.
Best New Director awards will be disputed between Carlota Pereda with 'Cerdita' (Piggy), Alauda Ruiz de Azúa for 'Cinco lobitos' 'Elena López Riera for 'El Agua' (The Water), Juan Diego Botto for 'En los márgenes,' and Mikel Gurrea for 'Suro' (cork).
'Suro' could see another Catalan winning a Goya Award for Vicky Luengo for her role as Best Actress. She will be competing against Marina Foïs, Laia Costa for 'Cinco Lobitos', Anna Castillo for 'Girasoles silvestres' (Wild Sunflowers), and Bárbara Lennie for 'Los renglones torcidos de Dios' (God's turned lines).
Penélope Cruz, most nominated in Goya's history
After being nominated for Best Actress in a Supporting Role for her role in 'En los márgenes,' Spanish actress Penélope Cruz reached 13 Goya Awards nominations in her career.
With this, she continues to be the most nominated actress in the award's history. Competing against her in this year's edition, there is Marie Colomb (As bestas), Carmen Machi (Cerdita), Susi Sánchez (Cinco Lobitos), and Ángela Cervantes (La Maternal).