Catalan family hopes to sell one of last Botticellis in private hands
Portrait by Renaissance master owned by Guardans-Cambó family is up for sale at the Frieze Masters art fair in London for 30 million euros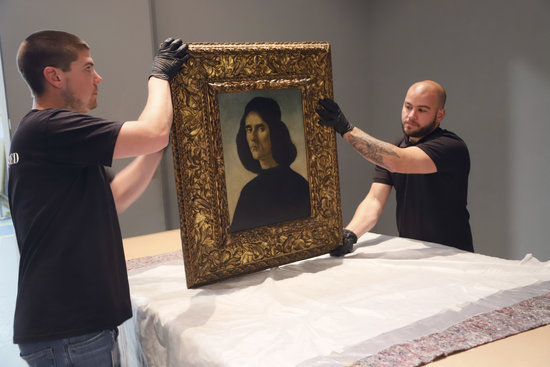 One of the highlights of this year's Frieze Masters art fair in London will be a portrait by Renaissance painter Sandro Botticelli, which belongs to 14 descendants of one of Catalonia's most important politicians of the early 20th century, Francesc Cambó i Batlle.
Between October 3 and 6, attendees to the fair will be able to admire the portrait of the 15th century Greek scholar, poet and soldier, Michele Marullo (or Michael Marullus Tarchaniota), as London's Trinity Fine Art gallery has dedicated a whole booth to the painting.
Botticelli painted few portraits, and that is one reason why this painting has attracted so much attention. "A portrait with such a history, where we know who the sitter is, and all the history, is almost unique," Carlo Orsi, the owner of Trinity Fine Art, told Catalan News.
How Cambó's family got in touch with Trinity Fine Art
Orsi explains how Trinity Fine Art ended up with the painting: "I know one of the owners very well, she is a friend of mine. Last year, she asked if I would like to hold the painting and try to sell it. And I said, why not? That was the start of my project for the Boticelli."
The Frieze Masters art fair is better known for showcasing modern art, but Orsi guessed that devoting an entire booth to the Renaissance masterpiece would make the work stand out. If the media attention it has attracted so far is anything to go by, that has proved to be true.
"Many are here for contemporary and modern art, so I'm looking for maybe a Spanish client collecting modern or contemporary art who might fall in love with such an important portrait and maybe give it to a Spanish museum. That would be my dream," said Orsi.
Asset of Cultural Interest
The portrait, one of the last Botticellis in private hands, was declared an Asset of Cultural Interest by the Spanish authorities in 1988, which means that the painting cannot be exported, according to Spain's heritage laws, and needs a licence to leave the country.