Catalan artists The Tyets and Julieta to perform in London on December 8
Promoters Bona Gents want young British audience to "understand Catalonia's culture and traditions"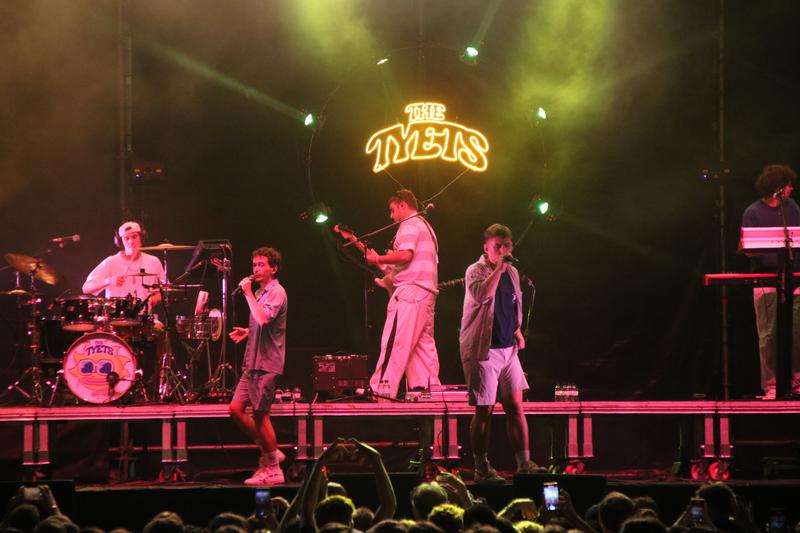 Catalan music group The Tyets, the phenomenon of this summer in Catalonia, will perform in London on December 8, accompanied by singer Julieta, who will open the night.
The concert, organized by Bona Gents, is the outcome of a chat with one of the singers from The Tyets. "We were just chatting, and I suggested doing the concert [in London], and he said that he would love to, as it was actually a plan that he had," Oriol Vidal, one of the co-founders and a friend of one of the musicians, tells Catalan News.
Vidal and Benet Aragay, also a co-founder of Bona Gents, had been working together in the London offices of Catalonia Trade & Investment, a Catalan government agency also known as ACCIÓ.
"Working there, we had the chance to interact with the majority of Catalan entities" and saw there was a gap in activities for a "younger audience," Aragay says.
One of the goals of Bona Gents is to "make a younger British audience understand Catalonia better, our traditions, our culture, and our language," Aragay says, before adding that both feel "that within the United Kingdom, Spain is seen as one thing, and Catalonia is not very well understood."
On the other hand, "the brand of Barcelona is really powerful, and it could even be more powerful than the brand of Spain," Aragay adds. Therefore, they decided to build Bona Gents on the reputation of the Catalonia and Barcelona brands, aiming to "somehow encompass a little bit the nation of Catalonia and our traditional cultures."
There are currently around 30,000 Catalans and 200,000 Spaniards residing in the UK.
The Tyets, creators of hits such as 'Coti x Coti' and 'Bailoteo', became the first group singing in Catalan to surpass one million active monthly listeners on Spotify.
The concert will take place at London's Scala Club, a site near King's Cross railway station, with a capacity of 1,145 people, with tickets already available ranging from £21.80 (€25.30) to £29.60 (€34.35). Part of the proceeds will go to the Escola Catalana Londres, a Catalan school serving the Catalan community in London.
Gap due to Covid-19
Covid-19 had a huge impact on cultural venues and organizations. In London, Oriol Vidal says, there used to be an organization that planned gigs and shows with "emerging" artists, but "during the pandemic, they disappeared like many others." He and Benet Aragay took advantage of the gap left.
"This year, we are going to do this one concert," Vidal says, as "it is not only about the concert but building the whole brand." However, they confirmed to Catalan News that they are already planning around two or three concerts for 2024 and some gastronomical activities mixing music and food, such as a calçotada, a traditional barbecue centered on calçots.
"We have many ideas, and it is a matter of seeing how everything fits," Vidal says, and if they need to "broaden the scope a little bit," they will be "happy to do that by doing paellas, some kind of vermouth, wine tastings, but music will always be the core point."
Next year's events are still to be announced, partly because Bona Gents is "something that we do on the side," as both have their own jobs, and the musicians have not yet been confirmed.