Catalan artist Lita Cabellut opens new exhibition in London
'Fur & Feathers' focuses on skin and mixes human figures with animal souls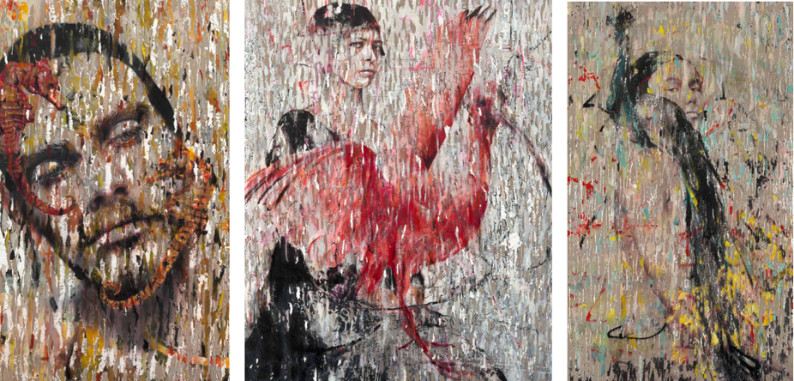 'Fur & Feathers', the newest exhibition by multidisciplinary artist Lita Cabellut, will be on display in Opera Gallery London from November 10 until December 4. The newest collection of works by the renowned Catalan creator mixes modern portraiture with mythology and philosophy, matching humans with animal counterparts.
According to the artist's own website, Lita Cabellut is recognized as the third most valued Spanish artist, presenting works all over the world while living and working in The Netherlands. She has a wide repertoire of multidisciplinary works but is mostly known for her large-scale paintings using a personal contemporary fresco technique.
After being left on the Barcelona streets at age 12, a prominent adoption family introduced Cabellut to the Spanish masters in the Prado Museum, who still influence her today. The well respected artist has painted public figures such as Frida Kahlo, Coco Chanel, Sigmund Freud and Billie Holiday.
Human meets animal
The main theme of Cabellut's newest exhibition is the sensation of skin and the perception through touch. 'Fur & Feathers' consists of evocative and dense images about skin and how it gets exposed to the outside world, light, darkness, pain and pleasure.
To present this concept, the Catalan artist used models, friends, family members and strangers and combined them with suitable animal counterparts, specifically focusing on the animal spirits and their mythological and philosophical meaning.
The exhibition also tries to give a deeper understanding of animals shedding their coats every year and needing to adapt, using images of butterflies, birds, seahorses, foxes and more to portrait the concept.
Cabellut's newest collection will be presented in the Burlington Arcade pop-up gallery in the Opera Gallery in London, before being moved to a bigger exhibition space on New Bond Street in the future. The Opera Gallery has a network of 14 art galleries worldwide, presenting modern and contemporary works including that of Pablo Picasso.