Bat-Signal raised over Barcelona celebrating Batman Day
The 80th anniversary of the Dark Knight sees iconic distress signal projected over MNAC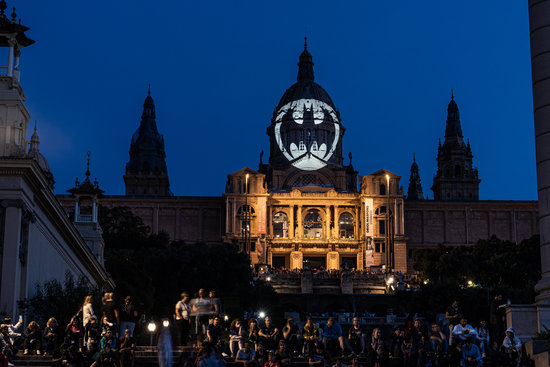 Batman is without a doubt one of the most popular characters in the comic world, and this year the Dark Knight celebrates his 80th anniversary, after first appearing in 1939, thanks to the creative geniuses of Bill Finger and Bob Kane.
To mark this very special Batman Day this Saturday, the iconic Bat-Signal was projected onto the front of Catalonia's National Art Museum (MNAC) for four hours, from 8 pm until midnight. The initiative was internationally coordinated, with 12 other places in different countries also carrying out the projection.
The Bat-Signal is one of the most iconic images not only of the Caped Crusader's universe, but of all superhero stories. It is the method commonly used by Commissioner James Gordon when the city of Gotham is in distress and needs the help of Batman. The Bat-Signal appeared for the first time at number 60 of 'Detective Comics' in the year 41.
The MNAC, where the Bat-Signal was projected for four hours, has previous history linking it with the story of Batman. In the comic book 'Batman Barcelona: The Knight and the Dragon', scripted in 2009 by Mark Waid and drawn by Catalan Diego Olmos, the Batcave was located precisely under the National Art Museum of Catalonia.
DC Comics, publishers of the Batman stories along with Superman and Wonder Woman among many others, has launched an online tool at batman80.com to follow celebrations in various cities on an interactive map that will show all real-time projections.