Barcelona's first Biennial of Thought 'a major success,' says mayor
After 20,000 people participated, council says event promoting debate on challenges facing cities is "here to stay"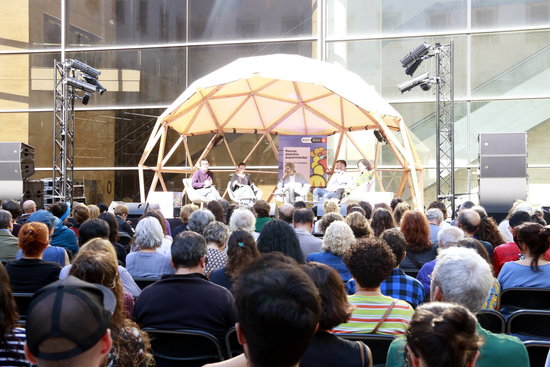 With the participation of some 20,000 people in 69 activities all over the city, Barcelona's first edition of the Open City Biennial of Thought was dubbed a "major success" by mayor Ada Colau.
Running from October 15 to 21, the event aimed at linking the debate on the role of today's cities with the challenges facing society in general presented itself as "a festival of ideas."
In a series of talks and debates, the event covered the "major global challenges" for cities, such as "inequality, gentrification, populism, feminism and sexual diversity," in Colau's words.
In evaluating the event, Colau picked out the "huge response" by young people in the city, who she said showed a "real desire to think, act and contribute to [society's] big questions."
Another aim of the event was to "resolve the problems of a globalized world at a local level," and Colau pointed to the involvement of "many neighbourhoods and districts" after the council decided to "decentralize" the activities.
Biennial of Thought "here to stay"
As for culture councillor, Joan Subirats, he said the Biennial of Thought "is here to stay," and said work has already begun on a biennial of science for February, while the format will also be used for Barcelona Pensa, the city's festival of philosophy, in November.
Subirats stressed the "simple way" the activities were carried out in "open spaces", and he gave the example of people spontaneously stopping, with shopping bags and all, to take part in an activity in the Sant Antoni market.
Describing the local authority as "very happy" with the result, the culture councillor also pointed to the fact that of the 156 talks that took place in the biennial, 79 were by women and 77 were by men.