Barcelona's finest gastronomic establishments to gather on La Rambla for food festival
'Tast a La Rambla' returns for its eighth edition with five days of showcooking, tasting and workshops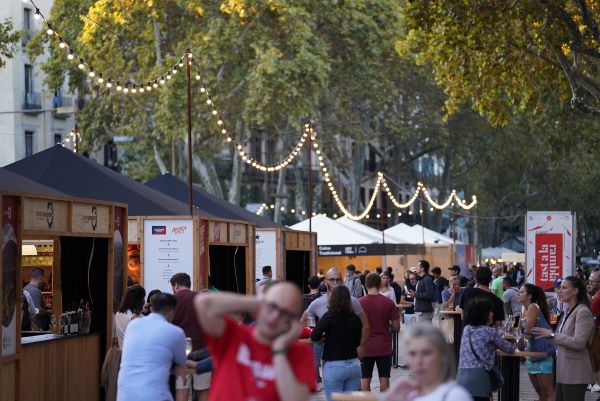 More than 38 of Barcelona's most acclaimed chefs, restaurants and bars will come together on the city's La Rambla boulevard for the eighth edition of 'Tast a La Rambla', a food festival lasting from June 2 to 6 in which visitors can try out the best that the Catalan capital has to offer gastronomically, whilst also getting the opportunity to witness these talented chefs first-hand.
Some of the cooks taking part in the event include Carles Abellán, Oriol Balaguer, Jordi Butrón, Christian Escribà, and Jordi Esteve.
The event was confirmed in a press conference on Monday attended by Jordi Rabassa, the councillor for the Ciutat Vella district where La Rambla is located.
'Tast a La Rambla' will be divided into four categories based on the cuisine on offer. These are Signature Cuisine, Pastry Making, Tapas and Small Dishes, and Traditional Cuisine.
Different ways to enjoy the festival
Separate from these categories, however, are the various sections for attendees to sink their teeth into.
New to this year is the Showcooking-Gastronomías con identidad, located in the site's chill out zone, where visitors will be able to witness some of Barcelona's finest chefs prepare dishes from selected Spanish territories, with Saturday being dedicated to food from Asturias in the north of Spain, and Sunday to Castile-La Mancha, in the center of the country.
For example, on Sunday, Antonio Cuerda from Zúbar, a restaurant in the city of Guadalajara, will be preparing a beef tail wrapped in filo pastry, goat's cheese and ginger.
Like last year's edition, at the bottom end of La Rambla, in the Santa Mònica Arts Center, there will be a series of activities under the name Aula de Tast, featuring workshops and talks led by culinary experts, restaurants and well-known brands.
This event runs from the afternoon of June 3, and has a capacity limit of 60, but entry does not require prior registration and is free.
Some highlights include 'Hotel cuisine in Barcelona', given by Pablo Tomás from Sintonia restaurant, and 'Cinzano: the taste of vermouth since 1757' by the Italian vermouth brand of the same name.
For wine aficionados there is also the Cellers de Tast, a space to sample some of the finest grapes in the land.
Visitors can sit down and enjoy their food in comfort at one of the seven high table areas.
Tasting is done by redeeming tokens, which can be purchased at token offices, as well as in the spaces dedicated to the main sponsor, Estrella Damm beer, and the Celler del Tast.