'Alcarràs' to reach US and UK cinemas this autumn
MUBI streaming platform buys rights to Golden Bean winner in several English-speaking countries, Latin America, Turkey, and South-Eastern Asia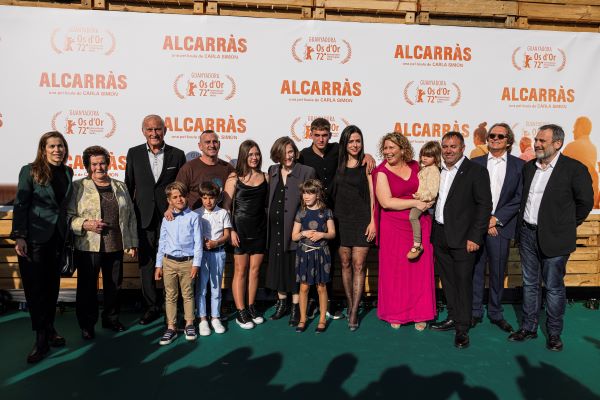 'Alcarràs', the most successful Catalan film in over a decade, will be on American and British cinemas this autumn, according to its distributor Avalon talking to Catalan News.
Directed by Carla Simón, it may also be on display in several other countries, since the streaming service MUBI has bought its rights for not only the US and the UK, but also Ireland, Latin America, Turkey and some southeastern Asian countries such as India.
Also responding to Catalan News, MUBI did not give further details on its theatrical premiere elsewhere, but did confirm that it will be available for streaming platform MUBI users in the US, the UK, Ireland, Latin America, Turkey, India, and Malaysia in yet to be confirmed dates.
French company MK2 is in charge of the film's international sales.
'Alcarràs' has been on cinemas in Catalonia and across Spain from April 29 grossing €1.06 million at box offices within the first week.
Over the first weekend after its premiere, 169 cinemas screened the film that won the Berlinale Golden Bear. The movie sold 56,000 tickets, garnering €404,000.
The number of cinemas where it was being shown increased a week later, making the movie the second most-watched film in Spain, behind Marvel's Doctor Strange. 'Alcarràs' has been the most-watched film in 50 cinemas, and the second most-watched in over 60.
'Alcarràs' tells the story of the last fruit harvest that a family goes through on their farm before they must leave the land after the owners decide to install solar panels. It's a tribute to rural life, family farms, and respectful agriculture, and made history as the first-ever Catalan film to take the biggest award at one of the most prestigious international film festivals in the world in Berlin in February.
'Alcarràs' is Carla Simón's second film, after 'Estiu 1993' (Summer 1993) – in both productions, her personal story is obvious.
Have a listen to our Filling the Sink podcast in order to get an in-depth analysis of the movie, its director and the current situation of Catalan cinema.