Spain rules out lifting face mask mandate and quarantines for now
Catalonia among territories in favor of further loosening restrictions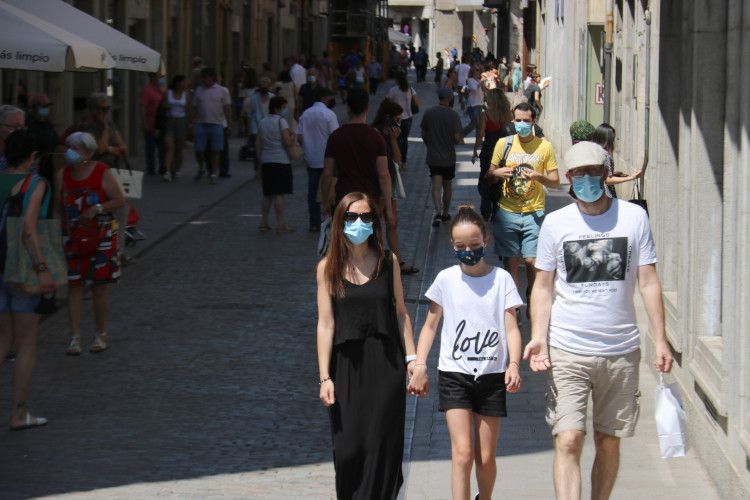 The Spanish government has, for now, ruled out lifting the face mask mandate outdoors, which was reintroduced in the run-up of Christmas as the Omicron variant brought an unprecedented surge of transmissions.
The Socialist-led cabinet has rejected requests by several territories to remove the measure made on Wednesday, including Catalonia, during the weekly health coordination meeting between the Spanish executive and regional governments.
Yet, Spain's health minister, Carolina Darias, reminded in a press conference afterwards that this is a "temporary" measure and may be reviewed soon. She also acknowledged that the current pandemic trend is positive.
Catalan authorities in the meeting backed lifting the restriction as "it makes little sense," health minister Josep Maria Argimon said on Wednesday.
While visiting Figueres hospital, in northeastern Catalonia, he defended returning to the previous regulation, which imposed face masks indoors, and outdoors only when maintaining safe distances is not possible.
'Blackmailing' MPs to approve face mask mandate
The Spanish congress ratified the mandate on Tuesday, after some parliamentary manoeuvring by the government in Madrid.
Although Pedro Sánchez's cabinet did not have the support of the majority of lawmakers in the chamber, they managed to get the go-ahead of MPs because the face mask mandate was included in the same vote as the increase in pensions for retired people – despite some parties accusing the government of "blackmailing" them, they ended up backing the double measure.
Since last December 24, face masks are mandatory in public places indoors, but also outdoors – also when safety distancing is possible.
Catalonia urges Madrid to loosen quarantines
In parallel, Catalonia also urged Spain to review quarantines, something that for the moment, Madrid will not do, according to minister Darias.
The Catalan public health secretary, Carmen Cabezas, said on Tuesday that quarantines for close contacts of positive cases should be loosened, but did not specify her team's proposal apart from saying that other countries are shortening them or maintaining them only in certain cases.
Catalonia intends to remove quarantines in schools in late February, even if Spain is not ordering it, but urges Madrid to work on softening self-isolation, and not only in the education sector.