Restaurants, cultural venues, and convenience stores will be able to close at 1 am from Friday
Capacity limit raised to 70% for stores and gyms and 20% for cultural and sports events held outdoors in large venues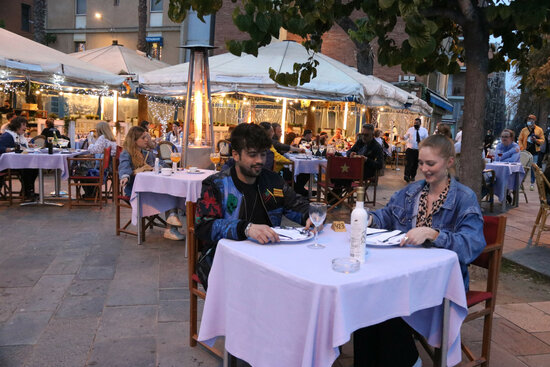 Bars, restaurants, cultural venues, and convenience stores in Catalonia will be allowed to remain open until 1 am from Friday, June 4, thus adding an extra hour to their working hours.
Capacity limits will be raised to 70% for stores and gyms, and to 20% for cultural and sports events held in large venues with room for over 15,000 people, as long as there are separate sectors of under 3,000 people each and only if there is a plan to avoid crowds in the entries.
The decision was confirmed on Wednesday afternoon by Catalan authorities, which for weeks have moved to gradually ease Covid-19 restrictions.
The 3,000-people limit for smaller outdoor venues will remain in place.
Bars and restaurants located inside of sports arenas, cultural venues and others will be allowed to reopen.
The capacity limit for trade fairs will increase from 30 to 50%.
Groups of people will be now allowed to eat or drink in public spaces such as rest areas and picnic areas.
And although this measure will be reviewed "in the coming weeks," the use of face masks remains compulsory, with very few exceptions including outdoor exercise.
The cap on gatherings remains at 10 people, with gatherings of up to 6 people in both indoor and outdoor seating areas of restaurants. Authorities continue to urge people to limit their social interactions and travel beyond their towns or cities of residence as well as to work from home when possible.