Healthcare workers overwhelmed by sixth wave as some colleagues out sick or on vacation
Professionals work overtime as hospitals and primary care centers avoid rescheduling non-essential care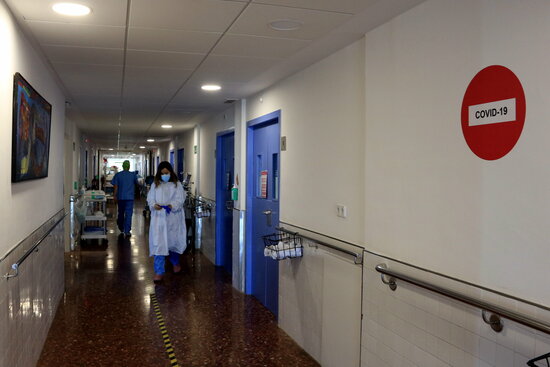 Catalonia's hospitals and primary care centers are still feeling the effects of the Omicron-fueled explosion in Covid-19 cases.
Not only are 3.4% of healthcare workers in Catalonia out sick because of Covid, but a number of their colleagues are still on vacation following the winter holiday season, meaning that many of those on the clock have had to work overtime to avoid rescheduling non-essential care. Others, however, have decided to postpone their time off.
And with a 14-day incidence rate of 3,429.16 positives per 100,000 inhabitants on Sunday – higher than any other day since the pandemic first hit and likely to continue growing until the sixth wave peaks – medical professionals are overwhelmed.
On January 3, for one, primary care centers had 75,726 people seek medical attention for Covid-related issues, more than ever before, while slightly more than 1 in 4 PCR and antigen tests are now positive – only 8.92% of all tests from March 2020 have been positive.
Xavier Lleonart, the secretary-general of Doctors of Catalonia union, told the Catalan News Agency there was a sense of "hopelessness" among workers.
According to him, at the beginning of the pandemic "everyone thought it could bring about a much-needed transformation of the health care system." But because, Lleonart says, the healthcare system has not been sufficiently bolstered, "there is an even more intense feeling of hopelessness" as workers "surf" the waves of the pandemic with the same number of ICU beds and medical professionals as before.
Similarly, Glòria Jodar of Barcelona's College of Nurses, said the situation was "complex" as the onslaught of cases seen in the sixth wave has added to their usual workload, which includes, for example, the vaccination campaign.
"Nurses have been telling us that they are very tired and see no end in sight," she said, adding that not all of those who are out sick have Covid, but that there are also cases of "anxiety and exhaustion."
"We ask those who can and want to to do overtime, but we don't force anyone to do so," Jodar explained.
Some hospitals, like Barcelona's Hospital del Mar and Hospital Clínic, have hired medicine and nursing students as well as retired professionals.