Government asks for use of Covid certificates to be reviewed
Catalan health minister plans to adapt passports to current situation as Omicron is predominant variant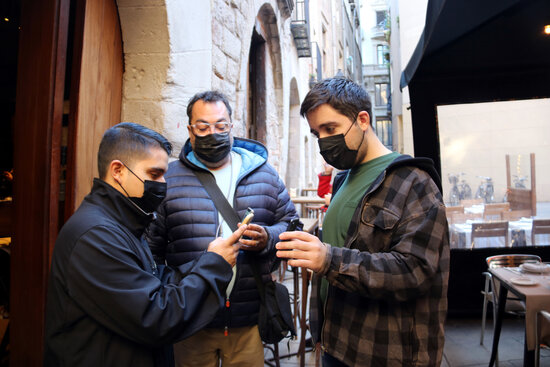 Some voices are questioning the use of Covid-19 certificates as the Omicron variant, now predominant, is more transmissible than previous strains. For this reason, Catalan health minister, Josep Maria Argimon, announced that their use would be reassessed.
In a visit to Catalan pharmaceutical company Hipra on Monday, Argimon explained that the executive had "asked the Covid Advisory Committee to review the use of Covid-19 certificates" with the goal of adapting "it to the current situation."
Covid-19 health passes became mandatory to access restaurants, bars, gyms, and several other kinds of establishments on December 3, 2021 when the Delta variant was still the most widespread.
However, with the current situation, some are beginning to question the benefits of these passes.
"The effectiveness of the Covid-19 certificate, as proof of vaccination [and in terms of keeping transmissions low], is limited," Julià Blanco, member of the Covid Advisory Committee said to Catalan public broadcaster TV3 morning show.
Vaccines are thought to be less effective against the Omicron variant, but do help to prevent severe illness.
Blanco warned that the vaccine efficacy against the Omicron variant "is lower" compared to previous strains.
Health officials will meet on Monday evening to assess the state of the pandemic in Catalonia. Authorities are also expected to determine whether restrictions in place to stop the spread of the virus should be lifted or not.
Since December 23, a 1 am to 6 am curfew is in place in municipalities with high Covid rates as well as other measures, such as a 10-person limit on gatherings.
Catalan Covid-19 vaccine
The health minister was accompanied by president Pere Aragonès during his visit to pharmaceutical company Hipra's manufacturing plant. Aragonès highlighted the importance of the vaccine developed by the Catalan company which will enter phase three of its clinical trial soon.
The vaccine, which is thought to be "highly effective", will be a "Catalan but also European jab," Aragonès said. He added that the executive will "collaborate as much as possible" to make sure Hipra shots are one of those administered in Catalonia. The jab is expected to be available before the summer.
Coronavirus cases in schools
Students returned to schools on January 10, after the Christmas holidays with some changes to the measures to stop the spread of the virus.
In only a week, Catalan pharmacies carried out 123,575 antigen tests on students and teachers—an "intense" campaign as in just seven days they did the same number of tests as those done during the first trimester of the school year. Out of these, 6,400 turned out to be positive, a 5.18% rate.