Curfew to end at midnight on Thursday night
Authorities confirm nightly stay-at-home order in place since December 24 will not be extended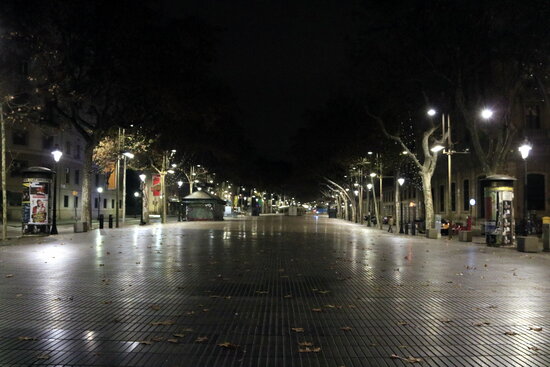 The nightly curfew in force in Catalan municipalities with high Covid rates will come to an end at midnight on Thursday night, January 20, going into Friday morning, January 21.
The Catalan government announced last week that they expected to end the 1am-6am curfew affecting 6.5 million residents if the Covid-19 situation improved, and it was confirmed on Monday that this would be the case.
The commission responsible for Covid measures will finalize the decision on Tuesday, with more details to be provided by the government's spokesperson at a press conference.
6.5 million residents in Catalonia have been under nightly stay-at-home orders since December 24.
In a press conference last week after the routine cabinet meeting, government spokesperson Patrícia Plaja said it was possible authorities could lift the curfew despite the fact that recent Covid transmissions were still "excessive."
Some 50% of all of Catalonia's Covid-19 cases recorded since the beginning of the pandemic have come in the past three months.
Yet, health experts had noticed a "slowdown" of some pandemic indicators and a possible future improvement in the situation is being detected.
However, Plaja also said that removing all the restrictions imposed in the run-up to Christmas at once will not be possible and added that the nightly stay-at-home orders will be the first ones to be removed since they are the most invasive.
Review of Covid passports
Some voices are questioning the use of Covid-19 certificates as the Omicron variant, now predominant, is more transmissible than previous strains. For this reason, Catalan health minister, Josep Maria Argimon, announced that their use would be reassessed.
In a visit to Catalan pharmaceutical company Hipra on Monday, Argimon explained that the executive had "asked the Covid Advisory Committee to review the use of Covid-19 certificates" with the goal of adapting "it to the current situation."
Covid-19 health passes became mandatory to access restaurants, bars, gyms, and several other kinds of establishments on December 3, 2021 when the Delta variant was still the most widespread.
However, with the current situation, some are beginning to question the benefits of these passes.