Covid certificate mandate results in 64% more vaccinations
After suspension due to technical problems, government will decide on Monday when passes will also be obligatory in bars, gyms and care homes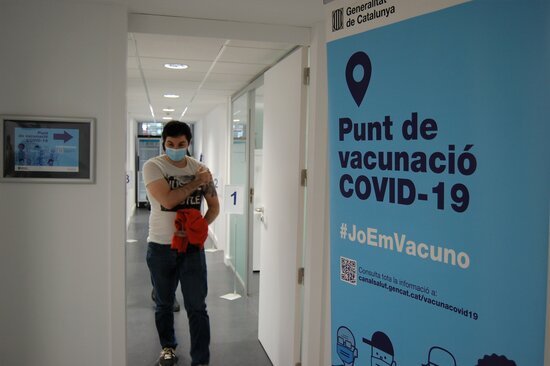 The Covid-19 certificate mandate has resulted in a 64% increase in vaccinations this week. Authorities said on Saturday that, between Monday and Friday, 21,000 people received their first dose, a remarkable rise compared to the previous week, at 13,000.
As for second doses, the jabs administration went up from 20,500 to 37,000 in a single week, around 80% more.
In an interview with RAC1 station on Saturday, the public health secretary, Carmen Cabezas, said that this is a "side benefit" from the tightening of the Covid certificate mandate.
She also admitted that Catalan authorities are "concerned" about the omicron variant, but also reminded that other strains had also worried them at the beginning, but "after all they have not had such an impact."
Cabezas said that the new variant has not been identified in Catalonia or Spain yet – authorities in Madrid have imposed a negative Covid-19 test to individuals traveling from Botswana, Swaziland, Lesotho, Mozambique, Namibia, South Africa, and Zimbabwe. An obligation for UK arrivals to be vaccinated to enter Spain will also come into force on December 1.
Announcement on certificates on Monday
The requirement to show a Covid certificate in bars, restaurants, gyms and elderly care homes was suspended on Friday, just a few hours after it came into force, until at least next Monday.
The Catalan health authorities decided to postpone the new regulation due to technical problems in downloading the passes – the website to access the certificates was overloaded. On Saturday, the health department explained that 913,000 passes have been downloaded in only the past four days, after the government announced it intended to expand the use of the certificates – 346,000 only on Friday.
The Catalan president, Pere Aragonès, said also on Saturday that authorities will convene on Monday and will announced when exactly the new conditions to enter bars, restaurants, gyms, other sports centers and elderly care homes come into effect.