Covid booster shot appointments now available for anyone over 18
Around 3 million – 4 in 10 residents in Catalonia – have already received an extra dose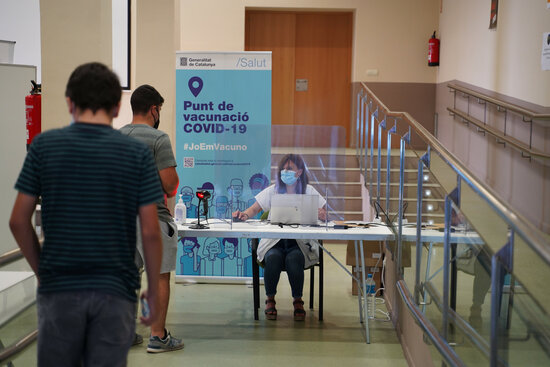 Covid-19 booster shots are now available for anyone above the age of 18, as bookings have been extended to people between 18-29, affecting 424,000 people in Catalonia.
On January 19, appointments opened for those between 18-29 as long as they received their second dose of Pfizer or Moderna at least eight months earlier – yet, from Thursday, anyone this age and over is also eligible to receive their third dose, as first published by Betevé and confirmed by Catalan News.
Like everyone else, young adults willing to get the booster have to wait at least five months after their previous dose (three if they got the AstraZeneca or Janssen doses). Waiting five months after going through the disease is also strictly recommended, even though a four-week gap will be accepted in some cases.
Bookings can be made online via this link.
Waiting five months to get booster after going through virus
This move comes a few days after authorities in Spain recommended waiting five months to get a booster shot after having tested positive.
"The time between the transmission and the administration of the booster shot will be a minimum of four weeks, but we advise getting it five months after diagnosis," the agreement between Spain and regional governments read.
As of January 26, 2022, Catalonia has administered 2,942,400 third doses (37.5%). Official data show that 41.4% of residents have received a booster shot (which includes those who had a third jab plus people who only got one jab in the initial vaccination series and then received a booster, their second shot).
How to get vaccinated in Catalonia
Anyone who is registered in a municipal 'padró' census in Catalonia is entitled to at least basic CatSalut public health coverage, which includes Covid care and vaccinations.
You can apply for a health card here. Once you have received a CIP number, you can request access to La Meva Salut, the website and app from which medical records – including vaccination certificates – can be downloaded and health queries can be made. You will also be able to book vaccination appointments online.
Vaccinations are only administered through the public health system.