Catalonia sits on 127,000 AstraZeneca vaccine doses pending EU report
Health authorities say blood clots are "extremely rare" but believe decision to put jabs on hold is "reasonable"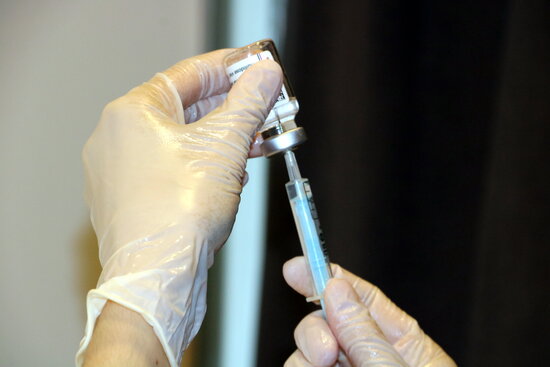 Health authorities in Catalonia are sitting on 127,000 AstraZeneca vaccine doses after Spain joined a string of European countries pausing the use of the jab over safety concerns.
The Catalan government said on Tuesday that vaccine doses will be put on hold at least until the European Medicines Agency (EMA) publishes a much-anticipated report on Thursday on whether it can cause blood clots.
Public health officials in Catalonia echoed EMA's reassurance that the vaccine's benefits by far exceed the alleged risks, arguing reports of blood clots in people who received the jab are "extremely rare."
According to the Public Health secretary Josep Maria Argimon, there are around 14 cases of blood clots that could be linked to the AstraZeneca vaccine: 11 in the European Union and 3 in the United Kingdom out of 6 and 11 million people who were administered the jab, respectively.
Argimon says the rate of blood clots among vaccine-recipients, under two for every million inoculations, is lower than that amongst the general population: 3 or 4 per million people.
In Catalonia, there are around 186,000 people who have received at least one dose of the AstraZeneca vaccine. Argimon and health minister Alba Vergés, however, are yet to specify what will be done with those who have already been vaccinated as well as those who have only received one dose and do not want to go in for a second one in the event the EMA does not advise against its use.
Essential workers, such as teachers, under the age of 55 who were supposed to receive the AstraZeneca vaccine have already been sent text messages informing them of the situation and the vaccination appointment booking platform has been put on hold.
EMA "firmly convinced" vaccine is safe
The executive director of the EMA, Emer Cooke, said she was "firmly convinced" the AstraZeneca Covid-19 vaccine can continue to be administered while the organization investigates a potential causal relationship between the jab and blood clots.
"The benefit-risk remains positive," she said on Tuesday, lamenting the impact putting inoculations on hold will have on Europeans' confidence in the vaccine.
"At present, there is no indication that vaccination has caused these conditions," Cooke noted. According to her, the EMA is taking concerns "seriously" ahead of a decision on their safety which will be made public on Thursday.