'We won't pay': activists force ticket barriers open to denounce commuter train service
'Batec' movement believes Spain is not investing enough in Catalan railway network, as protest has limited impact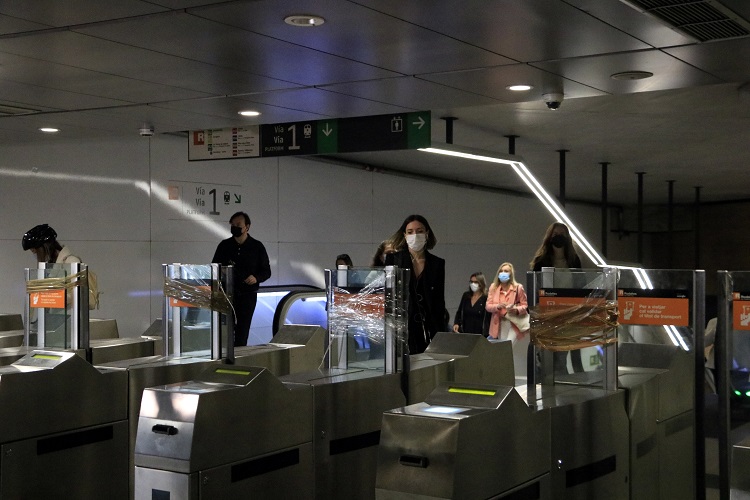 Dozens of young activists have forced open ticket barriers in several train stations in the Barcelona area to denounce a "disastrous" commuter train service provided by the Spanish government-owned company Renfe.
On Wednesday, members of 'Batec' movement, linked to the pro-independence movement, duct-taped the barriers open in stations such as Passeig de Gràcia (Barcelona), Badalona, Vilassar, Granollers Centre, Sabadell Centre, Sant Feliu de Llobregat and Calella.
'No paguem', or 'We won't pay', is the motto of the protest, which focused on Spain's alleged lack of investment in the Catalan Rodalies commuter train network.
During the morning peak hour, Renfe said the support for the protest was "scarce," while 'Batec' called the move a "success" and said some 20 train stations had their barriers duct-taped open.
"A lot of people have been able to travel without paying, which was our aim," said spokesperson Antònia Maria Dols. Vilassar de Mar, Granollers, La Garriga, Bellvitge, Sant Feliu de Llobregat, Garraf, Girona, Vilafranca del Penedès, Martorell, and Castellbisbal were some of the stations where the protest took place, according to 'Batec'. Posters have also been hung at Cervera, Bellpuig, Tàrrega and Castellnou de Seana stations, where there are no ticket barriers.
The company managing the service said that it is the Catalan government the one in charge of fining passengers without ticket and reminded that paying for the commute also covers the user with the compulsory travel insurance.
Also, Renfe reminds that there are "a lot of channels" other than fare-dodging to complain and adds that an "impotant effort" in investing on Rodalies commuter network is in place.
Commuter trains plagued with delays and disruptions
Batec, which means 'heartbeat' in Catalan, is a newly formed group that is encouraging fare-dodging from Wednesday as Renfe has been plagued with frequent delays and other disruptions for years.
Commuters, especially those who have to travel to Barcelona and other major cities on a daily basis, have long complained of this situation.
"We won't pay until Madrid does!" their website reads. "The Spanish state has to make good on their promises to Catalonia," a Batec spokesperson insisted on May 4, when they presented their campaign. "They know that if they do not fulfill them, nothing will happen to them."