Activists open barriers to Arc de Triomf commuter trains to denounce 'disastrous' Renfe service
Batec youth group encourages fare-dodging from May 11: "We won't pay until Madrid does!"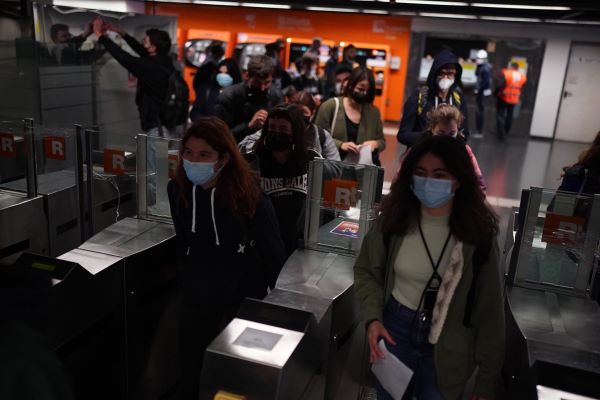 Around 50 Batec youth group activists forced the barriers to Rodalies Renfe commuter trains at Barcelona's Arc de Triomf station open on Wednesday morning to protest what they describe as a "disastrous" service.
Batec, which means 'heartbeat' in Catalan, is a newly formed group that is encouraging fare-dodging from May 11 as Renfe has been plagued with frequent delays and other disruptions for years.
Commuters, especially those who have to travel to Barcelona and other major cities on a daily basis, have long complained of this situation.
"We won't pay until Madrid does!" their website reads. "The Spanish state has to make good on their promises to Catalonia," a Batec spokesperson insisted. "They know that if they do not fulfill them, nothing will happen to them."
I no compleixen perquè si no ho fan, no els passa absolutament res. Fem que no els surti gratis no complir amb Catalunya, que alguna vegada perdin ells.

A partir de l'onze de maig, no paguis. #NoPaguem pic.twitter.com/BjLw2IMEe4

— BATEC (@batec_cat) May 4, 2022
According to the protesters that duct-taped the barriers open, the Spanish government is "responsible" for the issues with Renfe for not allocating the promised funds towards the service in Catalonia.
Batec activists are also angry about other "difficulties" they face, from access to affordable housing or employment and decent working conditions.
Renfe to file complaint against Batec
Renfe responded to the protest by vowing to file a complaint against the Batec activists who did not pay for their tickets on Wednesday morning and who called on the general public to do the same on May 11.
Company representatives stressed that there are a "multitude" of other legitimate ways to demand improvements.
They also cited work on the Mediterranean corridor line, which began decades ago, as well the La Sagrera, Sant Andreu Comtal, Molins de Rei, Mollet Sant Fost or Molins de Rei stations as proof of their efforts to revamp the service.