Supreme Court rejects lawsuit against Spain's president over Catalan leaders' pardons
Right-wing group accused Pedro Sánchez of breaching his duty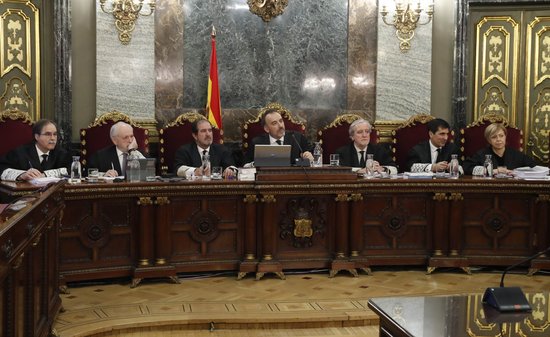 The Supreme Court has rejected a criminal lawsuit accusing Spain's president Pedro Sánchez of breaching his duty over the pardons granted last June to nine Catalan leaders imprisoned for their role in the independence push.
The lawsuit was filed by the right-wing group Derecha Liberal Española and was rejected on the grounds that "whoever with powers exercised the pardons as provided by law." Thus, magistrates acknowledge that the Spanish government has the right to release prisoners and rule out considering it a breach of official duty, which is a criminal charge potentially carrying a prison sentence.
"The complainants themselves recognize the legitimacy of the Spanish government to grant total or partial pardons to those convicted by criminal courts, and that the judging court and public prosecutor have issued their mandatory reports before the decision," reads the decision.
According to the Spanish right-wing minor party, pardons were "a bargaining chip with Catalan pro-independence groups."
Yet, the Supreme Court also said it will be its administrative courtroom the one deciding whether the way pardons were granted was legal.
Spain's three main unionist right-wing parties, People's Party, Ciudadanos and Vox, filed appeals against the pardons some days after they were announced, and have not been considered by magistrates yet.
Nine pro-independence politicians and activists were sentenced to between 9 and 13 years in jail each for their role in the 2017 independence referendum and declaration of independence. They served around three and a half years before they were pardoned by Sánchez's cabinet.
Could appeals against pardons be successful?
The pardons could be challenged in the Supreme Court, the institution that convicted the officials, but "it is not so easy" to do, according to the procedural law professor at Barcelona University, Jordi Nieva-Fenoll, talking to Catalan News in June, just before the move was approved by the Spanish cabinet.
He said the Supreme Court can review them because in the past they have considered themselves to have the powers to do so. Yet, the question is who can first challenge the pardons and on what grounds?
"To challenge such a decision legally you have to be affected by the decision," he explained. "And who is affected by the decision of the pardons?"
"Many have thought of political parties, but why is it legitimate for them to challenge the decision? There is no ground. And any other person in society? Why? There is no ground either," he added.
The 1870 pardons law gives exclusive powers to the Spanish government to put forward pardons as long as they provide reasons, what has motivated it.
"The only reason so far where the Supreme Court has declared a pardon void is that it is arbitrary, against reason," says Nieva, who was sure that Sánchez would comprehensively explain his reasons to avoid successful appeals.
And he did: his cabinet stated that the decision had been made in order to support "reconciliation" among Catalans and between Catalonia and Spain