'Kicks, hits and insults' - police officers recall protests ahead of referendum
Session will revolve around protests during the peak of independence bid and around 15 agents are expected to give testimony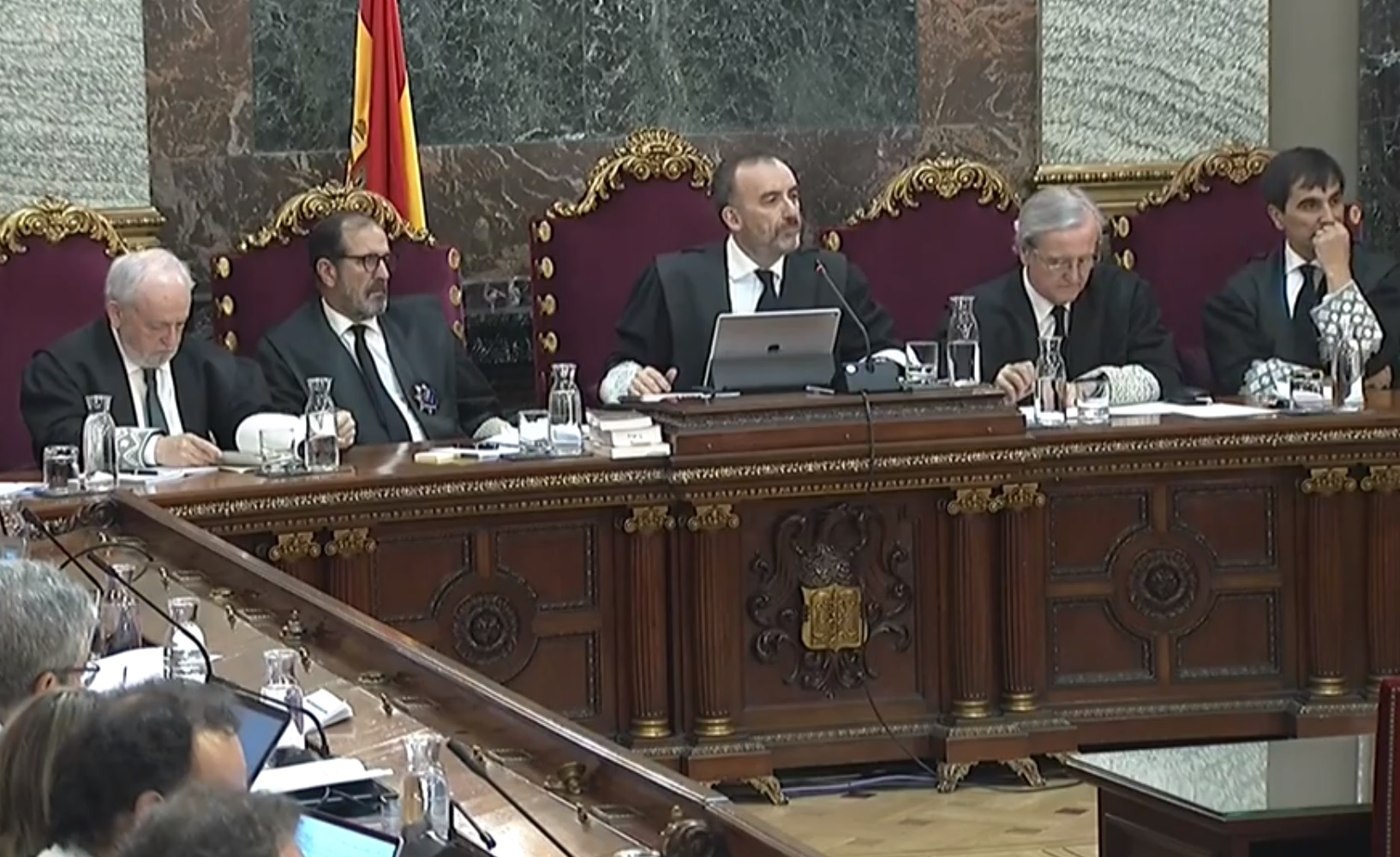 Some more Catalan and Spanish police officers will testify on day 24 of the independence trial.
At 10am the proceedings began with the testimony of a Spanish police officer who spoke about a protest outside a hotel where some officers stayed during the peak of the independence bid, in La Seu d'Urgell, in the very north of central Catalonia.
"Intimidated"
One officer said him and his colleagues were "intimidated" by the protesters because they could not get out of the hotel and "there was a lot of people." "I saw a crowd getting closer to the hotel [where officers were lodged] to harass my colleagues, including a firetruck," said a second witness.
A third still spoke about Lleida, where he was stationed in fall 2017, the day after the referendum (October 2) he and two more officers were insulted by an individual while they were wearing plain clothes.
The court was told about an individual in Lleida who took photos of the officers and posted them to Facebook, urging people to protest at the hotel they were staying in, however, this file had already been closed by a court, which the officer was unaware of.
🔴 Guardia Civil officer says some of the agents' families changed bedrooms after an incendiary artifact was thrown at the police station

— Catalan News (@catalannews) 28 March 2019
Insults
The fourth and fifth officers testifying spoke about insults they received in Lleida and Girona respectively. The fifth said they were called "sons of bitches" and "fascists."
In the day's sixth testimony, a Catalan police officer said she "couldn't remember" whether or not she sent WhatsApp messages telling people in which hotels Spanish police were staying.
"We were shoved and I was hit with a motorbike helmet. They insulted us, but I didn't receive any threats," the seventh testifier, a Catalan police officer who was injured following the Sabadell raids, explained. He later clarified that he didn't go on sick leave, and said there were "no organizers" of the protest, that it seemed "spontaneous."
The eighth officer to testify this morning told of more hits and insults in the Sabadell operation, adding that he needed to go on sick leave due to the injuries he sustained on his elbow and finger.
In all, around 15 officers of both Catalan and Spanish law enforcement will give testimony as witnesses.
🔴 Witness tells of an "incendiary item" being thrown at the Guardia Civil police station on September 28, 2017: "Colleagues later told me it was soaked in fuel"

— Catalan News (@catalannews) 28 March 2019
Wednsday afternoon witnesses on the Sabadell raids
Some protests in Sabadell and other rallies such as the contentious mobilization of September 20, 2017 outside the Catalan economy department in Barcelona are also likely to be dealt with.
On Wednesday, three law enforcement officials testified about their experience with raids and protests in the town of Sabadell, at the home of Joan Ignasi Sànchez, who was an advisor to the then governance minister, Meritxell Borràs, who is charged with misuse of public funds and disobedience.
Witnesses were two Catalan officers had been injured while giving support to the Guardia Civil body, an officer of which said on day 23 that he felt "anguish" that day. All officers spoke of protester "violence."
Folllow our live thread for the latest details on the trial