'Human barricades' led to Spanish police violence: former Spain's vice president
Soraya Sáenz de Santamaría says "everyone saw violent images" from September 20, 2017 protests in her testimony as witness in independence trial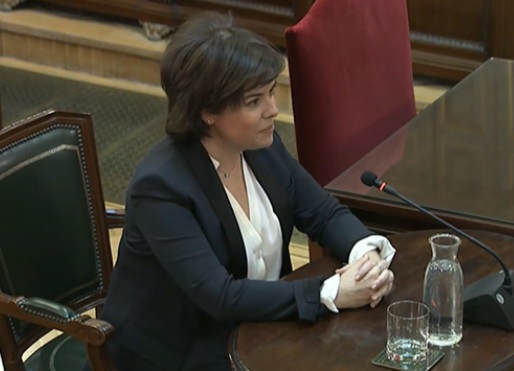 "If people had not been called on to act as human barricades, some of the [violent] images on referendum day would not have taken place," said Soraya Sáenz de Santamaría, former Spanish vice president.
Testifying during the Supreme Court Catalan trial about the independence bid seen in 2017, Sáenz de Santamaría testified that she didn't believe that the declaration of independence was "symbolic," saying this is why Catalonia's self-rule was suspended.
She was in charge of the Spanish government's regional policy during the height of the conflict, and alleged that her government applied direct rule on Catalonia to guarantee "the nation's unity and the law's compliance." She added they applied it "with caution and proportionality.
Police officers asked to dock before September 20
The former vice president also alleged in her testimony that there were "violent" rallies were held outside locations being raided by Spain's law enforcement during the month of September, 2017.Regards the protests on September 20, 2017, she said "everyone saw violent images" by demonstrators on that day.
She continued to say that, immediately after, 6,000 policemen were sent to Catalonia. However, defense lawyer Jordi Pina argued that this contradicts the fact that a boat carrying officers asked to dock the day before, on September 19—Sáenz de Santamaría responded that this decision was taken "previously."
Raojoy set for 4pm
Immediately after the former vice president, it will be the turn of former Spanish finance minister, Cristóbal Montoro.
Montoro famously told the press that "no public money was spent on the referendum," after his department closely controlled Catalonia's finances in 2017. This, if true, would contradict the allegation of misuse of public funds that all the former Catalan government members face.
Set for 4pm, Rajoy himself will take the stand this afternoon.
Sáenz de Santamaría came after the testimonies of Esquerra's MP Joan Tardà and the former Catalan president Artur Mas.