Defense lawyer accuses Supreme Court judge of 'violating fundamental rights'
Cuixart's representative condemned the judge's alleged inconsistency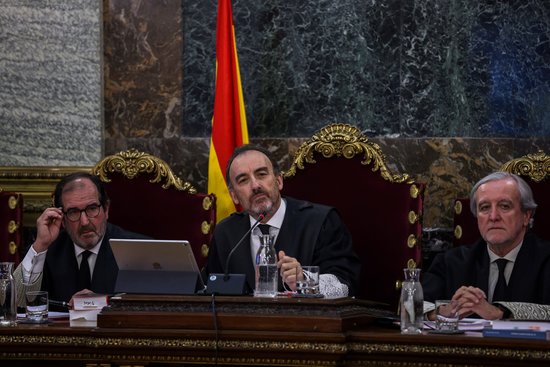 A clash between Supreme Court magistrate Manuel Marchena and Jordi Cuixart's defense counsel, Benet Salellas, took center stage in the Catalan trial on Tuesday morning.
On the penultimate day of witness hearings, Judge Marchena suggested he would be glad if Salellas remained quiet during the cross-examination of academic Marina Garcés.
Garcés was repeatedly interrupted during her testimony for expressing what the judge dismissed as "subjective remarks" such as when she called the October 1 referendum "amazing".
"Your personal opinions are of no interest, even though you would love to keep talking about them," Marchena interjected as the witness discussed her experience of voting day.
However, lawyer Salellas protested his assessment, noting that the court had been receptive to "the perceptions of witnesses of the referendum when they were police officers".
Salellas protested and denounced a "continued violation of fundamental rights" and said he would not be asking further questions as a result of the decision. "Much better," Marchena responded.