Court removes day-leave permits of seven jailed independence leaders
Imprisoned male politicians and activists will have to return to jail with only 36 days a year allowed out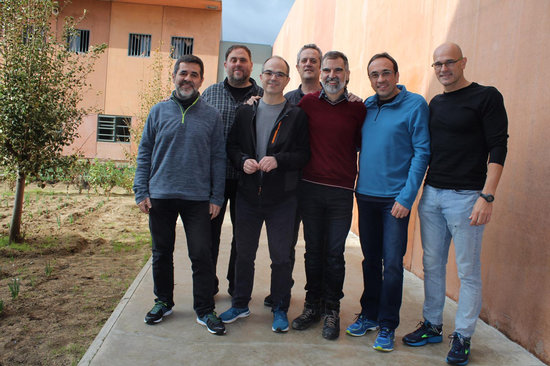 A penitentiary court in Catalonia has removed the day-leave permits of the seven male jailed pro-independence leaders, who will now have to return to prison.
They had been enjoying the 'low category' status as inmates, with an obligation to only spend the nights between Monday and Thursday behind bars – yet now, they will only have leave permits for 36 days a year.
The same court provisionally kept his day-leave permits on February 24 after being approved by the Catalan government on January 30, but challenged by the prosecutor.
This means that all seven, including former vice president Oriol Junqueras, will have to return to the Lledoners penitentiary centre on Tuesday.
The other two individuals in prison for their role in the 2017 referendum, Carme Forcadell and Dolors Bassa, are still pending a final deliberation of another Catalan penitentiary court.
The decisions of such judges could be appealed before Spain's Supreme Court, who already sided against allowing day-leave permits for any of them in December 2020.
Second attempt to enjoy day-leaves
They had been granted this semi-free status in July by the Catalan government, the administration in charge of penitentiary centres in Catalonia.
Soon afterwards, Spain's public prosecutor appealed the decision, arguing it was creating "a sense of impunity."
While the courts were deliberating on the matter – with the ultimate decision made by the Supreme Court on Friday –, a Catalan penitentiary court decided to automatically suspend the 'low category' status for the seven male imprisoned officials, while another one decided to keep the privileges for the two female ones, Forcadell and Bassa.
Yet, in the end, the Supreme Court ruled against them all.
Categorization of inmates have to be reviewed every six months in Catalonia, so pending a potential decision of Spain's top court upholding the revocation, they could be granted the day-leaves again in July this year, something which could be annulled again.