Unemployment rate drops to lowest level in 13 years to reach 10.16%
Number of jobless falls almost 4 points in 2021, with 142,500 fewer people out of work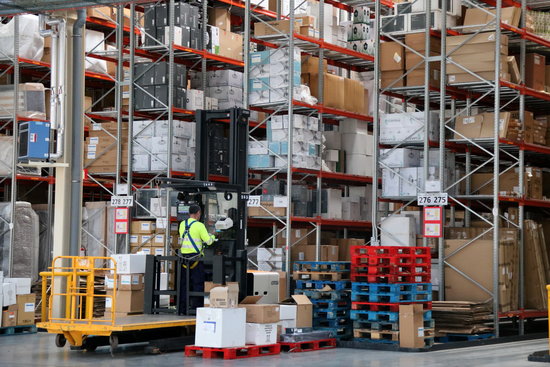 Unemployment in Catalonia dropped for a fourth consecutive quarter in the final months of 2021, and returned to pre-pandemic levels, according to the latest labor force survey (EPA) published on Thursday by the Spanish statistics institute.
The jobless rate in December 2021 stood at 10.16%, almost 4 points down from the figure one year before; 13.87%.
Indeed the figure has dropped to levels not seen since the third quarter of 2008 (when it stood at 8.8%), 13 years earlier, when the rate began to skyrocket after the financial crisis and reached as high as 24.45% in 2013.
The Catalan minister for business and labor, Roger Torrent, celebrated the positive news. "These data confirm that 2021 was the year of recovery, of overcoming the crisis, and mean that we start 2022 on a good footing," he said in a press conference on Thursday.
According to the department's forecasts, 2022 should be the year of the "consolidation" of this recovery, as they say that there is nothing to suggest that significant disruptions will occur again.
There were 395,400 unemployed people at the end of 2021, which means 142,500 fewer than a year before. The drop in this figure was 26.49% compared to December 2020, a record percentage, since 2008.
As for those employed, Catalonia registered its best figures since 13 years ago with 3,498,100 people in employment situations, 157,500 more than in the fourth quarter of 2020.
The positive trend is also confirmed by comparing the latest figures with those in the third quarter of 2021, when the jobless rate stood at 10.92%. In only three months, the number of people out of work dropped by 31,300 people, and those with a job increased 18,700.
Gender inequality
Yet, the positive news was not gender-balanced. While the unemployment in men was 8.8% at the end of 2021, 11.53% of women were looking for work.
This gap is not new, but in the last three terms of 2021, it expanded since the rate for men dropped roughly 1.5 percentage points, while it only decreased 0.3 points for women.
27% of people under 25 looking for a job
Contrary to the overall trend, unemployment of those under 25 was up in the last term of 2021. At 27.2%, it rose by 6 points compared to September. Yet, the figures were positive compared to the end of 2020, when the rate stood at 38.14%.
As for employees between 25 and 54, the quarterly rate fell 1.1 points, down to 8.9%. In the year-to-year comparison, the decrease was even bigger, since the figure stood at 12.59% in December 2020.
Following its usual trend, those over 55 are the age group with the lowest rates of unemployment, at 7.79% at the end of last year (9.6% in September and 8.4% in December 2020).