Taxi drivers vote on latest ridesharing proposal from authorities
Cab owners to decide whether to end strike, continue it, or consider further protest next month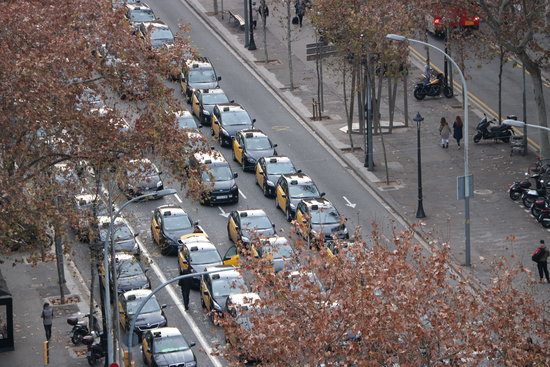 Barcelona's taxi drivers will vote on Wednesday on whether to accept or reject the latest proposal on the regulation of ridesharing companies from the Catalan authorities.
The combined offer by the Catalan government and Barcelona's metro area authority will effectively set a reservation time for ridesharing services like Uber to a minimum of one hour in advance in the Catalan capital.
Although the vote was expected to take place between 12pm and 6pm, the ballot boxes were not ready until 5:50pm, and the voting began at 6:15pm.
There are two choices: ending their strike and thus accepting the proposal, or continuing their protests and thus rejecting it.
A third option was initially considered, but later discarded: pausing the strike and resuming it during the Mobile World Congress (February 25 to 28), "if the Catalan government does not deliver on what it has promised."
The executive's proposal includes obliging taxis' rivals to return to their base once they finish every service, as well as prohibiting firms like Uber and Cabify from geolocating their clients.
Uber and Cabify consider leaving Barcelona
One of the most popular ridesharing companies in Catalonia, Cabify, offered on Wednesday for taxi drivers to use its app in order to get clients. According to the company, this way cab owners would "increase their capacity to receive services."
Also reacting to the regulation on Tuesday evening, some ridesharing companies considered leaving Barcelona.
"The Catalan government has conceded to the blackmail of taxi drivers," said Cabify's Global Head of Regulation, Marta Plana.
"Taxis have won," said Josep Maria Goñi, president of Unauto ridesharing companies association.