Spanish government bans firing employees due to coronavirus
With number of temporary redundancies rising to over 547,000 in Catalonia, new measures aim to stop firms from using crisis to reduce workforce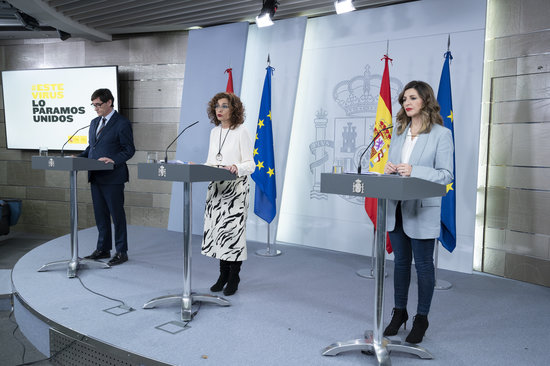 With 77,662 companies so far in Catalonia applying to temporarily lay off a total of 547,837 employees due to coronavirus (figures updated on Tuesday afternoon), the Spanish government on Friday introduced measures banning firms from firing permanent or temporary staff because of the crisis.
The measures announced by labor minister, Yolanda Díaz, aim to stop companies from taking advantage of the crisis to reduce their workforce and obliges them to resort to the established system for laying off employees temporarily while the crisis lasts.
"In this country, no one can take advantage of this health crisis. Covid-19 cannot be used to fire employees," said the minister, who said that all lay-off plans approved so far would be reviewed and that firms found abusing the system will have to "return every single cent."
According to the minister, the government decree approved by the Spanish cabinet on Friday will also simplify the system so that employees who find themselves temporarily out of work will be able to claim unemployment benefit "immediately."
Since the health crisis began several weeks ago and strict restrictions on leaving home were imposed as part of the state of alarm, there has been a constant stream of companies submitting plans to temporarily lay off employees due to the loss of business.
This week, Barcelona's Chamber of Commerce said 53% of companies in Catalonia that it surveyed have registered temporary redundancy plans, with 5% choosing not to renew the contracts of temporary staff and 8% permanently reducing their workforce.
Among the companies planning to temporarily lay off workers are some of the largest employers in the country, such as automakers Seat and Nissan, the Barceló and Meliá hotel chains, as well as high-profile retailers like Decathlon and Primark.