Spain blocks Catalan and Occitania governments' Mediterranean 5G Corridor project
Foreign ministry vetoes initiative for motorway for smart and self-driving vehicles over concerns about references to Catalonia as a "country"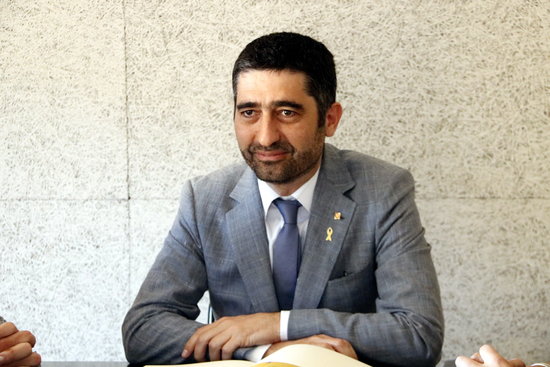 A joint project between the Catalan and Occitania governments to turn a section of motorway between Catalonia and the south of France into a road exclusively for smart and self-driving vehicles has been shot down by the Spanish government.
Talking to Catalunya Ràdio on Tuesday, digital policy minister Jordi Puigneró said that Spain's foreign minister Josep Borrell had rung him to tell him that the Spanish government was blocking the agreement on the so-called Mediterranean 5G Corridor.
Puigneró accused the unionist Borrell of being "obsessed" with Catalonia, with the radio station reporting that a foreign ministry report on the project objected to the language in the agreement, which referred to Catalonia as a "country" rather than a region.
Dated September 9, the report signed by Borrell regrets that the project makes no reference to the Kingdom of Spain and calls for all references to Catalonia as a "country" to be deleted. It also challenges the powers of the Catalan government to back such an initiative.
However, Puigneró insisted that the government "would not endanger a project" that would mean the creation of "a great many jobs," and the minister promised that the Catalan executive would take "the relevant measures" to ensure the project goes ahead.
Initiative "a good opportunity," says government
Later in the day, the Catalan government spokeswoman, Meritxell Budó, said the executive wants the 5G project to go ahead and "will not be the ones to put impediments" in its way, describing the initiative as "a good opportunity."
Meanwhile, the European Commission praised "the cooperation efforts" of the authorities in Catalonia and Occitania to set up a 5G corridor between Spain and France, and urged both states to "take steps" to promote these types of cross-border connections.
Spain denies vetoing project
As for the Spanish government, it later "roundly" denied that it had vetoed the project, and accused the Catalan executive of trying to avoid its "legal obligation" to subscribe to the form and content of existing international agreements.
A statement from the foreign ministry said "it has not prohibited the agreement but rather suggested modifications so that it conforms to the law," and added that "it does not therefore rule out possible support for the initiative if the document is modified."