Passenger numbers soar at Barcelona Airport with lower footfall elsewhere in Catalonia
The rest of Catalonia's airports have seen a drop in passenger numbers in February whereas flight numbers went the other way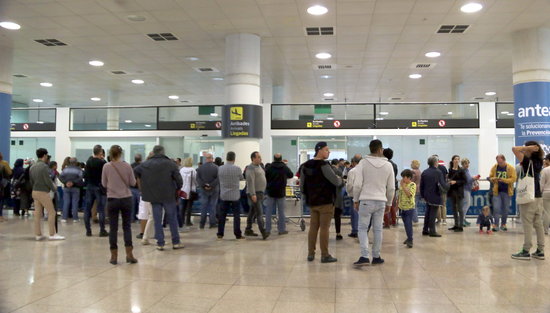 Barcelona's El Prat Airport registered 7.7% more passengers in February than the same month last year – a higher rate of growth than Madrid – while the rest of the Catalan network saw a drop in passenger numbers but a rise in flight numbers.
According to Spanish airport operators Aena, 3.2 million passengers passed through Barcelona Airport last month. Almost three-quarters of those were traveling aboard international flights – a slightly larger proportion than twelve months ago.
February is the third month in a row that the margin has narrowed, in both relative and real terms, between Barcelona and Madrid-Barajas Airport, which received 4.14 million passengers over that period, only 5.9% more than in the previous year.
So far in 2019, 6.5 million people have already taken off from or landed in Barcelona – a figure approximately four times the population of the city.
Regional airports
Elsewhere in Catalonia, despite an increase in the frequency of flights and proposals to redirect some international routes from Barcelona to Girona, the predominantly regional airports have seen a significant decline in passenger numbers.
Some 34,188 travelers accessed Catalonia and the Costa Brava via Girona's Vilobí d'Onyar Airport last month – 16% fewer than in February 2018 – although the number of commercial, mostly Ryanair, flights actually rose to 401 trips.
Visitor numbers from the United Kingdom grew by over a quarter but remain relatively low.
There was also a significant drop in the number of passengers at Reus Airport last month, 42.5% down on the year before, yet the number of flights was up by roughly the same proportion.