Legendary Catalan carmaker unveils €1.5 million euro model
Hispano Suiza presents 100% electric Carmen Boulogne, 5 of which will be on market by end of 2020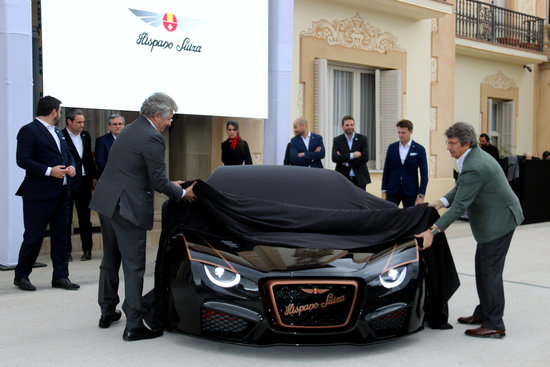 Legendary Catalan luxury carmaker Hispano Suiza presented its latest exclusive model in Sant Pere de Ribes, a small town south of Barcelona, on Tuesday amid much expectation and media excitement.
The historic company, which was relaunched only last year, has devoted itself to creating hyper luxe vehicles, and the 1.5 million euro before tax and 100% electric Carmen Boulogne, made in Barcelona, is no different.
"Hispano Suiza has always been using the latest technology, from the year it was founded to now. Sustainability is very important to us," Sergio Martínez Campos, Hispano Suiza's CEO, explains.
Named after the granddaughter of the Hispano Suiza Founder and former company president, Carmen Mateu, there will be 5 of these exclusive vehicles on the market by the end of 2020 for the lucky few who can pay their steep price.
The car can reach incredible speeds of up to 290 km/h, accelerating to 100 km/h in under 3 seconds.
Change of launch plans
Hispano Suiza's newest car was supposed to be launched at the Geneva automobile fair the same day at the same time it ended up being presented in Sant Pere de Ribes, but the Swiss event ended up canceled to prevent the spread of the coronavirus.
The company learned the event had been canceled when their cars were already at the French border en route to Switzerland and opted to present them to the world in a live-streamed event in the small Catalan town instead.