Hundreds queue up ahead of opening of Shein pop-up store in Barcelona
Low-cost retailer facing criticism for working conditions in factories will have a site in city center for 11 days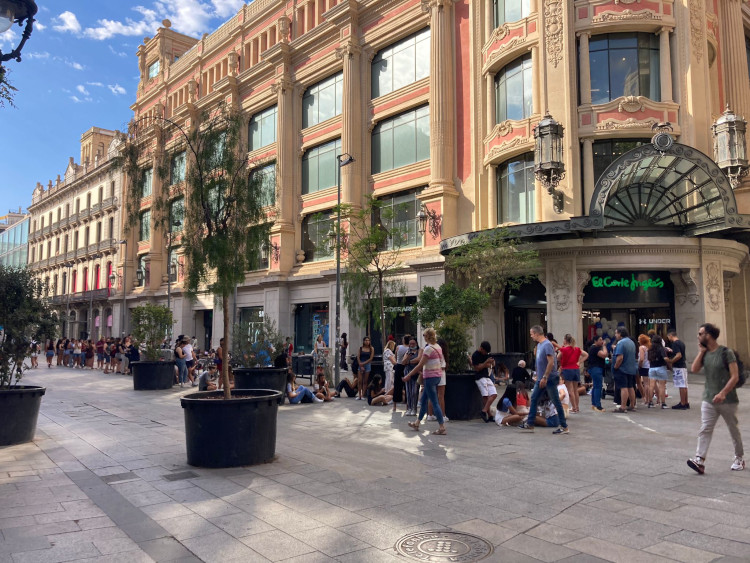 Hundreds of people queued up on Thursday morning in central Barcelona ahead of the opening of the Shein pop-up store in the commercial area of Portal de l'Àngel.
At 9 am, an hour before opening, a long line was already seen in the area, comprised of mostly teenagers and young adults.
The Chinese low-cost fashion retailer opened a temporary brick-and-mortar store on Thursday at 10 am. The shop, shared between Shein and another online store, Klarna, is located at 15-17, Portal de l'Àngel, at the heart of Barcelona's commercial area and very close to Plaça Catalunya square.
Its opening hours will be from 10 am to 10 pm Mondays to Saturdays, and 12 pm to 10 pm on Sundays – yet, the showroom will only be on until July 10. On Thursday, June 30 it will only accept customers until 3 pm before a press event in the evening.
Working conditions in Chinese factories in question
In November 2021, Swiss organization Public Eye, which specializes its research on human rights violations by companies, stated that thousands of Chinese workers in the southern metropolis of Guangzhou "spend up to 12 hours a day sewing together fabrics to make teen dreams come true," with total workweeks of "over 75 working hours."
The research group also explained they had been in touch with several workers in Chinese factories, who told them they are paid "per item" and "have one or two free days a month."
According to Public Eye, they do not have employment contracts.
"Shein systematically takes advantage of the fact that these employees are prepared to forgo even a minimum degree of safety, free time and quality of life, because they feel that they don't really have an alternative."
Top media outlets worldwide such as The Guardian, Bloomberg and Euronews have also cast doubt on Shein's practices and their commitment to the environment.