Half price on Barcelona's monthly and quarterly public transport tickets, 30% reduction on T-casual
Discount in place from September to December following Spanish government legislation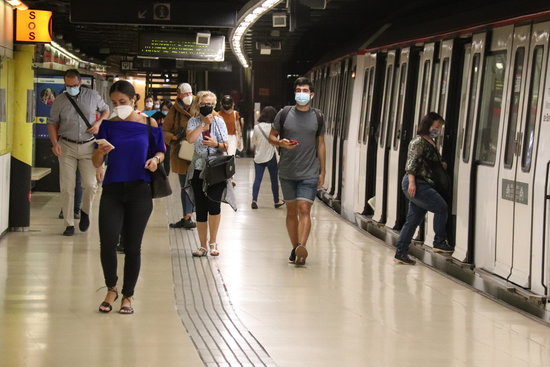 Barcelona's monthly and quarterly public transport tickets will be the only ones 50% cheaper from September to December. The city's public transport authority (ATM) agreed to further subsidize these passes, while other ticket options will only be 30% cheaper following Spanish government legislation.
Those tickets with unlimited use, such as T-usual and T-Jove, will be half price after the city's authority increased the aid proposed by the Spanish executive in June.
The central government had announced they will discount 30% on public transport, and left the door open for local authorities to increase the discount by 20 percentage points in an effort to tackle inflation.
The measure will be in place from September 1 to December 31, and tickets bought during this period will expire on January 15, 2023.
"Public transport users will not have to do anything special. From September 1, when they buy a new transport ticket, they will get the new discounted prices," Pere Torres, the director of the Barcelona public transport administration, said during a press conference on Tuesday.
In regards to other passes: T-Familiar, T-Grup, and T-Dia, officials have not set any discounts as these are not tickets used on a daily basis, but sporadically. On the other hand, passes such as T-70/90, already discounted T-Usual for those unemployed, and Berguedà and Ripollès counties packs will also be half price.
Transport operators, such as Barcelona's metropolitan transports (TMB) or Catalan train lines (FGC), will receive the subsidy once ATM receives the money from the Spanish government.
"We cannot afford to give money upfront as this year we are extremely affected due to rising costs of electricity," Torres said.
In fact, the public transport authority estimates it will have to deploy over €165 million extra to pay electricity bills in 2022. An increase that could have meant a 20% raise on passes, but they have not "added it" to ticket prices.
Renfe tickets to be fully subsided
While in the beginning, Spanish PM Pedro Sánchez announced that the government would discount Renfe-operated train tickets by 50%. Later on July 12, he made tickets free.
This means that tickets for short and medium-distance trains run by state-owned operator Renfe will be free for four months.
On this note, ATM expects to lose between €40 and €50 million as users will change their commutes from TMB to Renfe.
The Catalan authority has requested some financial aid as they believe they will lose dozens of customers, however, there is no "positive outcome," Torres announced.